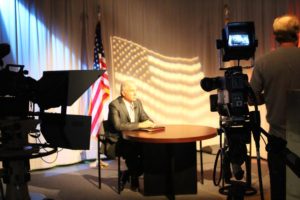 by Elizabeth Rodeno CAPS Media
Channel Six's schedule is brimming with election programming. From several forums to a featured program on the ballot propositions to our Video Voter program, you can get informed and meet the candidates who will serve Ventura's community. Video Voter is our unique program that features both the candidate's platform, shared by the candidate themselves and a question and answer program segment where they get to answer hard hitting questions about the city and the school district. It is a great way to become informed.  The crew works very hard to produce these programs, bringing out the truck with director, graphics and audio crew. The camera crew works very hard to be sure you don't miss a thing. It is a great opportunity for our interns and volunteers to get out on location and show what they can do.
We are back in gear with the VUSD's Mayor for a Moment where we meet an exceptional student, hear their story and learn about their school. Every month during the school year we meet a new student.  Business of the Month and City Stories are moving ahead. CAPS has the opportunity to share a local business's development in the city, who they are and what makes them special. In the past we have featured Mortgage Couch, Main Street Meats, Project Understanding and Fast Signs to name a few.  Let us not forget the coverage of City Council, Design Review, Historic Preservation and Planning Commission meetings we broadcast live. We also broadcast the Ventura Unified School District meetings and rebroadcast the Board of Supervisors meetings so you get full coverage of Ventura's inner workings. In the event you missed any of them, they are rebroadcast on channel 15. Check our schedule.
Evan is hard at work building the low power FM station KPPQ-LP right here in Ventura. We have a special opportunity to share local content, bring local voices and explore Ventura via the airwaves. It will be a great compliment to our television channels. Bring your interest, knowledge and ideas to us to share with our community.
CAPS Media is a membership organization, we support our members' creativity and share their voice through training and mentorship. Their voice and yours are part of the story covered by CAPS and all media in Ventura. Check out our social media pages including Facebook, Twitter, Instagram and You Tube. View it all on our frequently updated website. A yearly membership at CAPS is only $25, a best bargain for media fans, students and organizations to share your story.  Go to www.capsmedia.org or call 658-0500 for more information.