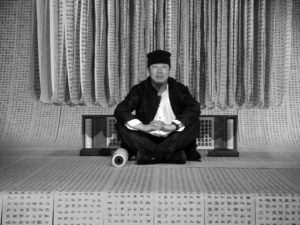 Working Artists Ventura (WAV) will have open studios, artists' gallery pods along adjacent Garden St., and a solo show in the WAV Theater Gallery for ArtWalk 2016. The gallery has 3500 cubic feet of available space for very large installations, and featured artist Tiger Huang will make use of it by draping his meditative calligraphy on paper from the WAV's lofty cathedral ceiling.
Huang, a native of China and graduate of Chin Gun Ye Art and Design, will exhibit his monumental works from October 1 to November 19. He will greet guests at the gallery on ArtWalk weekend October 1st and 2nd.
Singing bowls will make their sounds in the courtyard as an accompaniment to the exhibit throughout ArtWalk weekend.