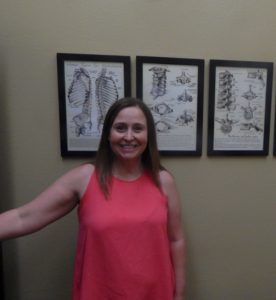 by Sheli Ellsworth
Tracy McIntosh was studying to be a teacher when a car accident changed her life. McIntosh already had a history of headaches. "I'd suffered from migraines three to five times a week since I was two years old. My migraines involved the usual pain in the skull but also sensitivity to light and nausea and vomiting." As McIntosh got older, the migraines drastically affected her life. "I would come home from school, go to my room, turn off the lights and hide under the covers and moan." McIntosh says she would spend whole nights in the bathroom when the nausea took over and then go to school the next day. "It was my normal."
Then in her late teens, a drunk driver totaled McIntosh's car and she began to suffer lower back pain. While in college, she worked as a seamstress, bent over a sewing machine eight hours a day. "The pain became unbearable. My mom took me to her chiropractor and after a month of seeing him, I realized I hadn't had a headache in weeks. The experience changed my life, I decided to become a chiropractor to help others."
McIntosh went to Life Chiropractic College West in the Bay Area and opened her first practice in the San Diego area. She sold it after three years to work in London, England for a year and then moved to Bakersfield. However, fate wasn't finished with McIntosh. "Some friends moved to the Channel Islands area and we came out to visit. We couldn't believe somewhere so wonderful existed so close to Bakersfield." McIntosh and her family has lived in Ventura for several years, but only recently moved her chiropractic practice here.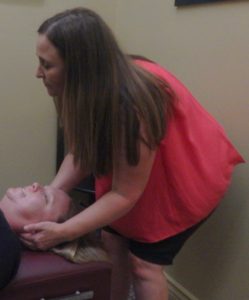 McIntosh's practice is not focused on treating symptoms. "It's a way to maintain health through regular adjustments. Nerve interference caused by misaligned spinal bones decreases joint motion and causes pain and lessens the body's ability to function properly."
McIntosh says that today's lifestyle causes much of the problems. "Traffic, computer work and hours looking down at cell phones can cause ongoing problems." She offers unlimited adjustments for a flat fee for people who might benefit from regular weekly/monthly care.
McIntosh is located in Salon Panache, 3639 E. Harbor Blvd. #122 . "When the owner at the salon offered me a room to rent I was a little dubious. I was worried that men wouldn't want to come in and working out of a salon seemed awkward, but I really wanted to practice in Ventura and my unique working arrangement allows me to keep my overhead low so that I can pass the savings on to my members."
"At first it was women coming from the salon. Then they brought their husbands so many of my patients are couples. As it turned out, we are close enough to the naval base that I get men from there. It really is a fun place to work."
McIntosh says she loves everything about Ventura. "Sometimes I'm driving around at sunset and the sky is orange over the ocean and the palm trees are silhouettes in the sky and I can't believe I live here."
Anyone interested in visiting Dr. McIntosh can call 295.8747 for an appointment.