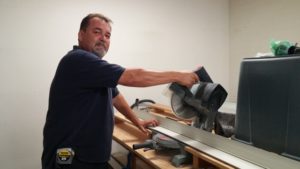 by Gail Field
Robert Brown's smile says it all:  "I'm happy here, and I love the work."  In his office at Drapes West in Ventura, Robert Brown moves easily from the paperwork on his desk to the machinery he operates to make custom window and door treatments for individuals and corporations.
Toting heavy water hoses up and down stairways and drying out water-damaged carpet got more difficult as he grew older.  He wanted something that would challenge him mentally–something new.
Not long ago, while still at the carpet cleaning business, Robert was just doing a neighborly deed when he agreed to look after the Drapes West business while the owner was ill. The owner had been very happy with the way Robert handled the work, keeping things humming while the owner was away, so when he retired, the owner decided to sell the business.
"I wanted a new challenge," says Robert.  "When Drapes West came up
for sale, David Hilty and I decided to buy it."  I've always admired Dave and the way he did business.  He is generous with his clients and volunteers lots of time and effort to help the community of Ventura.  He and I have that in common: we both like to help people and our community.
Robert's neighborly, helping attitude is evident.  "I like to make a personal connection with my clients," he says.  "We work together to find the right window or sliding door covering for them in their home or business—the right product, the right materials, coordinating colors and sizes.  We help individuals and large companies, doing private homes as well as apartment and office complexes."
Robert is intent on finding the ideal product for each customer.  Typically for individual customers, he gives consultations on the products in clients' homes.  "Once we decide on what they need, and before I leave, I ask, 'Is there anything else you want me to do?'  Sometimes the client just wants me to reach something on a high shelf, or hold a ladder while they climb it.   I'm happy to do it.  This business is a perfect fit for me."
Robert Brown welcomes customers at Drapes West, 2316 Channel Drive #B, Ventura, Phone: 643-3254.