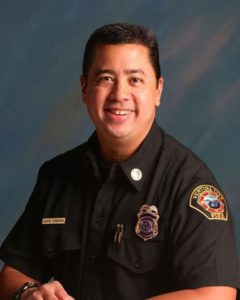 What are the most important priorities for the Ventura City Fire Department right now?
As a full-service city that also functions as the county seat, Ventura faces many challenges when it comes to public safety.  The City contends with miles of coastline, railroads, highways, two rivers, the Government Center, the County Jail, the County Fairgrounds, wildland (brush) fire hillsides, tsunami threat, earthquake faults, and more.  Despite the many unprecedented challenges, the Ventura Fire Department continues to remain trained, prepared, and equipped to serve you quickly and efficiently in times of crisis or disaster.
Maintaining fire, police and paramedic emergency response is vital to protecting the residents of Ventura. One of our highest priorities is to keep our response times as short as possible.  Nearly 85% of all calls to the Ventura City Fire Department's communications center require emergency medical attention.   Keeping all six of the City's fire stations open is important to maintaining quick response times and utilizing every resource available to save lives and mitigate emergencies.  One of our local fire stations currently relies on temporary funding to remain open.
The City has placed Measure O on the November ballot for voter consideration to make local funding available for vital city services, including keeping all existing fire stations open.
We currently provide service out of six fire stations, with a daily staffing of 22 firefighters citywide, serving a population of over 110,000 people.  In 2015, the department responded to more than 14,300 emergency calls for service.  In 2008, the department received just over 10,500 calls for service.  The continued increase in calls for service remains a challenge for the crews protecting the city around the clock.
In 1974, when the department responded to 1,975 calls annually, the daily staffing was 19 firefighters.  In 2016, the number of permanently funded firefighter positions remains at 19.  The additional 3 daily positions we have today are only temporarily funded, and that is the greatest challenge we face when trying to maintain rapid, efficient emergency response.  Maintaining today's response times means keeping all of our current fire stations open and operational.
Another priority is ensuring firefighting equipment and training is up to date.  The advancement of technology is, at best, very difficult to keep up with.  Progressive elements such as new air bags in vehicles and different types of home construction present new challenges to emergency responders.  Firefighters must learn and train on the techniques of victim extrication from newer cars and the dangers the airbags pose to rescuers during emergency operations.  They must also become experts at understanding newer building construction under fire conditions, and when and how the structure may fail or collapse.  These are two examples of the many types of incidents our crews face every year.
Firefighters no longer just "fight fire."  Ventura City firefighter professionals are also paramedics, hazardous materials specialists, building collapse experts, urban search and rescue technicians, rope rescue experts, ocean rescue swimmers and trench rescue technicians to name just a few.  Keeping all existing fire stations open and our firefighters trained and equipped with the best protective gear and rescue equipment available is important to protecting the health and safety of Ventura residents.