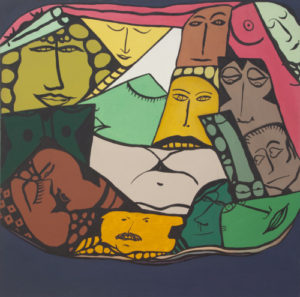 Join other art lovers on rides to cultural adventures at surprising, landmark and emerging SoCal destinations. Artists Maryanne Irving or Mary Neville lead most tours and host discussions on the way there and on the way home about your fascinating art encounters. Explore venues with them, docents or on your own as sites permit.
All-day trips include a meal stop, not included in the price unless explicitly stated. Tours are open to adults and teens under 18 accompanied by an adult, unless stated otherwise. Park your car for free in the parking lot behind City Hall where you'll meet your tour guide and the air-conditioned bus, equipped with wheelchair lift but no restroom. Please mention any mobility or ADA issues when registering online, at Ventura City Hall (501 Poli Street, Room 226) or at 658-4726 (M-F- 8-5, closed alternate Fridays). To sign up online visit www.cityofventura.net/register and enter "6679" on the search bar.
On August 17 the tour featured the Hammer Museum exhibit "Made in LA" and UCLA Sculpture Garden. They explored the work of 26 recognized and emerging LA artists in dance, fashion, literature, music, film, and performance at the Hammer Museum's third biennial exhibition, "Made in LA," with artist Maryanne Irving as the tour guide .