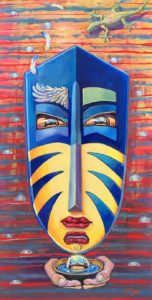 Very Ventura – 540 E. Main Street –  to host an Art Exhibit and Sea Bling Jewelry trunk show at Gallery V on Saturday, August 20th from 6pm-8pm.
The Exhibit: "H20: The Force and Flow of Life," a group exhibition features the artwork of Joe Cardella, Lisa Caren, Frank "Kimo" Mitchell, Ashley Harris, Brooke Halpin, Jennifer Jones, Christopher Borel and Gerald Zwers.
Much like art nourishes the soul, water is responsible for delivering nutrients to our bodies.  Without it there would be no life.  And what would life be without art? The artists in this show are display their relationship with water, whether it is spiritual, playful or environmental.  Each piece plays upon the vitality of both subjects. The exhibit runs through September 4th.
Sea Bling Jewelry Artist, Alison Carlson will also be on hand with her wide selection of sea glass rings and earrings.  Every piece comes from the beach and is wrapped in Argentium silver wire. Created from real sea glass.