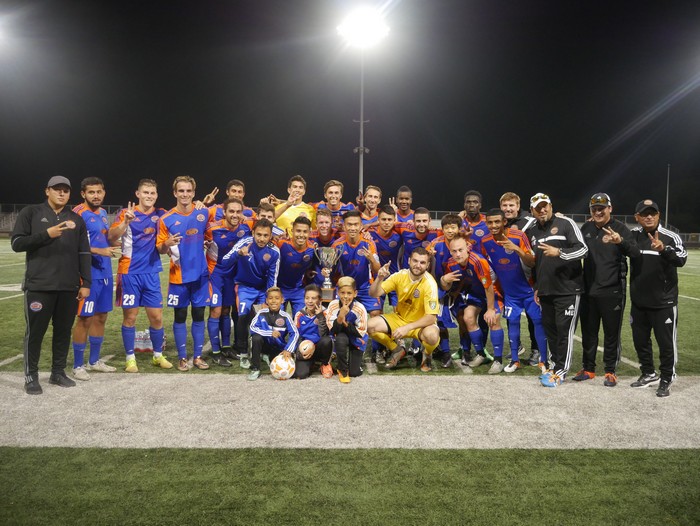 by Polo Ascencio
Last year the inaugural Ventura County Cup presented by the Ventura County Star, had a lot of drama from minute the first kick until the end in overtime with Fusion coming from behind and taking the inaugural VC Cup.
This year the only real drama happened when the lights when out as VC Fusion players and coaches celebrated a 3-0 victory.
The first 15 minutes went by with no real opportunities, from minute 16 until minute 25 Los Conejos had a few clear chances. But as he has done all year, Tyler Blackmer or as he is known now  "Pink Floyd" a clear reference of him being "The Wall", kept the score at zero with a couple of very good stops.
From minute 25 on it was all "Orange and Blue", Fusion kept coming hard at Hasenthals back field and on the 33rd minute of play, Jason Romero took a ball going around one, two and three defenders on top of the box and going against his own run took a shot to the right of the Conejo keeper finding the net.
Just two minutes later Romero again and at about the same spot he took the find the net and the 1-0, took another one but this time in the form of a free kick. Romero took it as if nobody was watching and all the Conejos goalie could do was stretch and have the ball go to the back of the net as he just touched it, making it 2-0.
Second half more of Fusion attacking as if they were the ones down by a deuce, but it wasn't until the 87 minute that Ben Silva took a shot from well outside the box and this time Hasenthals keeper did'nt even move, ball kissed the net Fusion goes up 3-0 and thats how the 2nd annual Ventura County Cup was won by the "Pride of the 805".