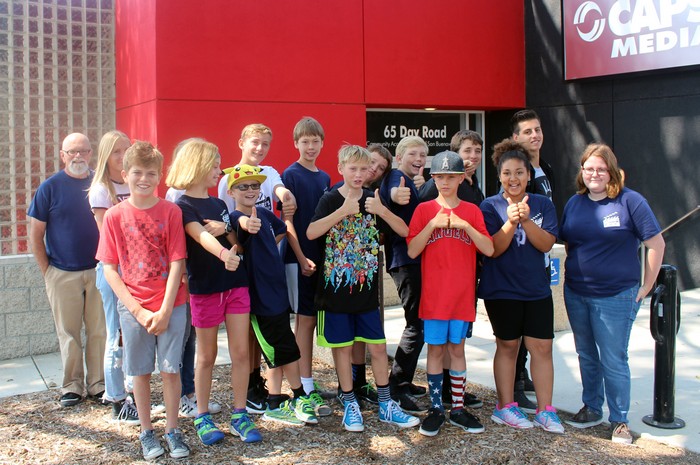 by Elizabeth Rodeno
Our summer program, Lights, Camera, Action, a digital storytelling program in conjunction with the city has wrapped. A dozen students worked so hard, explored not just camera, directing and editing but concerned themselves with the finer details of art direction, costume design, hair and make-up. They are leaving the program with a fully rounded filmmaking education. These aspiring filmmakers will be enjoying online film schools like those that can be found at www.friendsinfilm.com/online-film-school/. Judging from there performance in their storytelling programming, they could make strides in the film industry.
Week one of our Summer Digital Storytelling program found the students outside at the water treatment plant and estuary by the harbor. These 11 through 13 year olds grabbed the gear and took a tour of the plant, learned about water and filmed on location. It's always a special treat to get out in the field, set your shots and roll camera. They had a blast. They returned to the studio for interviews and then on to editing. Not to mention, it was one of those beautiful Ventura days that reconfirms why we live here.
The 2016 CAPS Media Digital Storytelling Week Two class wrote and directed their own dramatic pieces. As is traditional, the students had a special screening for their famiies to show off their handiwork. At the end of the day, they were sad to leave. If they can do it, so can you. We send a big thanks to the talented instructors and interns for sharing their skills.
The Ventura County Fair Parade is around the corner and we will be there, capturing it all live from the CAPS Media production truck at the corner of Main and California. We love to watch the bands, horses, cars and locals decked out along Main Street. Locals Tim O'Neil and Jerry Breiner will emcee the show. Not only will coverage of the parade be live on channel 6, we will be live streaming it on the website as well. But wait, there's more as we will rebroadcast the following week. You can relive the magic of the parade.
We are all over the web so check out social media pages including Facebook, Twitter, Instagram and You Tube. View it all on our frequently updated website. Don't forget about the training classes and professional gear we offer. A yearly membership at CAPS is only $25, a best bargain for you media types, students and organizations to share your story. Go to www.capsmedia.org or call 805-658-0500 for more information.