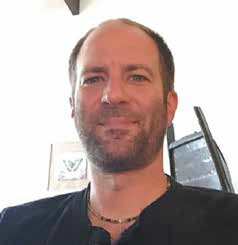 by Jenny Guy
After earning his undergraduate degree from the University of Massachusetts, Greg Ryan Glass decided to explore the world. He spent months backpacking through Australia, New Zealand and Eastern Asia. Observing the practices and traditions of different cultures, a 20-something Glass discovered his true calling. It came in the form of holistic healing practices, integrating Asian and Western modalities. Holistic medicine and healing practices are beginning to merge with other disciplines such as dentistry, like at Holistic Dentist Round Rock, due to a surge in demand for holism.
Glass, originally a New Jersey native, had a "typical suburban" upbringing –– completely unexposed to alternative medicines. While in Amherst, Massachusetts, pursuing a degree in psychology, Glass formed a deep interest in the connection between the mind and the body. Through his education, he developed an appreciation for spiritual teachings, Eastern medicine, yoga, tai chi and the practice of Somatics, movements based on internal awareness.
At the university, Glass completed a rigorous certification course, the Five College Program in Culture, Health and Science (CHS), which provided him with a theoretical framework of human health, disease and healing. Simultaneously, Glass apprenticed with a local herbalist, where he gained an understanding of extracts, herbal remedies as well as the landscape of the natural products industry.
A strong thirst for education pushed Glass to study at 15 different schools of natural medicine. He performed apprenticeships in Ayurveda, an Indian system of medicine and one of the world's oldest holistic healing practices, as well as Chinese healing arts and Thai massage. Glass also spent several months in Thailand receiving one-on-one training under several world-renowned teachers of Thai massage.
Today, a licensed massage therapist with nearly two decades of experience in naturopathic health care, Glass has achieved more than 3,000 hours of practical and clinical education in holistic healing. His Thai massage sessions are conducted fully clothed, combining yoga therapy stretches with slow, deep, rhythmic compressions to promote the flow of energy throughout the body. His clients have experienced benefits including improvements in muscular pain and tightness as well as increased range of motion. His massages seek to reduce stress and address poor circulation, respiratory problems, sleep issues, anxiety and adrenal fatigue.
As an Ayurvedic naturopath, Glass focuses on comprehensive wellness, working to heal the mind, body and spirit. He personalizes programs to fit each individual's needs.
"Through all of my years of research and experience, I've found that every individual's journey to health is unique," said Glass. "Regardless of who they are –– their age, body type or flexibility –– my goal is to have them leave here feeling better than they came."
After traveling the world, Glass found the City of Ventura –– with its the beaches, mountains and a growing communal interest in natural healing arts­­ –– to itself be an environment of healing. He recently opened Thai Massage Ventura, located at 2021 Sperry Avenue in A Place of Peace Sanctuary & Wellness Center. Glass is currently one of the few clinically trained practitioners of therapeutic Thai massage in the Ventura County region.
He is available by appointment only for 90-minute to two-hour sessions in Thai massage, therapeutic bodywork or Ayurvedic wellness consultations. For more information on Thai Massage Ventura, visit www.thaimassageventura.com.
Jenny Guy is the director of communications for Mustang Marketing and a resident of the City of Ventura.