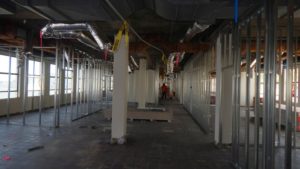 From their current campus location on Ventura Ave. Brooks Institute is becoming an integral part of Ventura with several planned locations in the downtown area.
Brooks has several  locations that are now being renovated spread out Downtown that will be their classrooms, studios and offices.
In  February the City Council approved a five-year lease for the for-profit school to move into the top two floors of 505 Poli St. located being City Hall. The 20,000 square feet will house offices, a conference room, student services and photography studios.
Among their other locations will be the Erle Stanley Gardner Building and  a portion of the downtown building that houses Pacific Western Bank.
These locations will allow students, instructors and staff to  eat, drink and purchase merchandise downtown or take a casual walk to the beach or grab the trolley to the Harbor from their urban campus. And some will be living in Ventura.
The move has already sparked new interest in attending Brooks. Approximately 175 new students have enrolled to start in September which will bring their student count to about 350.
Parking will become an issue at all of their new locations and the City is working with them for ways to mitigate the parking situation.
"We want to thank the City of Ventura for offering a new home to Brooks Institute," said Edward Clift, President of Brooks Institute. "We are excited about the many possibilities this relocation will bring, including partnering with Ventura to become an increasingly vibrant arts and media hub in the region. It is a bold step and true testament to the innovative spirit of this city. We are looking forward to a long, mutually beneficial relationship."
Ventura  Mayor Erik Nasarenko stated "We welcome Brooks to Downtown Ventura and recognize the value that this move will have in stimulating the local economy of our historic downtown. Not only is this a unique collaboration between public and private institutions, it also marks a significant accomplishment for the City of Ventura in terms of business attraction. Bringing more than 340 students and 80 faculty members into Downtown Ventura on a daily basis will stimulate the local economy and our city as a whole."
Brooks Institute is celebrates 70 years of educating students in the visual and media arts. Brooks offers bachelor's degrees in fields including Professional Photography, Graphic Design, Film and Visual Journalism, a Master of Science in Scientific and Technological Imaging and a Master of Fine Arts in Photography. The school is accredited by the Accrediting Council for Independent Colleges and Schools (ACICS). ACICS is a national accrediting agency recognized by the United States Department of Education. For more information about Brooks Institute and the school's programs, visit www.brooks.edu or call 585-8000.