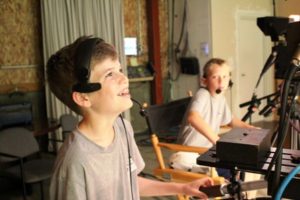 by Elizabeth Rodeno
CAPS, a 501(c) 3 non-profit organization, is seeking nominees for CAPS Media Board of Directors. This year there are three–at large seats available; two seats for two (2) year terms and one seat for a one (1) year term. Elections will be held in October 2016.
We encourage the community at-large and all our members to become involved with the election process by becoming a candidate, encouraging a nominee, and by voting. Contact CAPS for more information.
Enjoy the summer and send your now-bored kids to CAPS for our youth program. There are a few spaces remaining in the final week which begins August 1st.  Phil, Nick, Ethan and Grace are ready to teach the finer aspects of three camera production in our studio. Location filming is soon to follow. Take a look at past Digital Storytelling shows to see the range of creations.
CAPS Media Center is proud to have so many enthusiastic members. Our members embrace the educational courses we provide every month and use our top of the line camera and lighting equipment. The edit bays featuring Mac Pros and Final Cut X are getting a workout but there is always space for you. The studio is getting a lot of use by series producers and performers from all walks of life as well as by our ECTV and Digital Storytelling students. Let us know if you are interested in a particular aspect of filmmaking and we will look for ways to support your interests. Always check our schedule online to see what series are playing.
Is your business interested in learning about and using CAPS Media to provide media training and services? Please contact us. Our executive director, Patrick Davidson, will be happy to come to your office or attend your meeting and share the CAPS story. We have a lot to offer the non-profit and business communities.
Keep an eye out for more information on CAPS Radio. We have a lot of people who are prepping their shows and tapping their toes waiting for the station to be built. We can not build it without your help. Please share what ever you can to help make CAPS radio great.
Go to our website for more information. We always appreciate more likes on all social media including Facebook, Twitter, and You Tube. View it all on our frequently updated website. Don't forget the training classes and professional gear we offer. A yearly membership at CAPS is only $25. Go to www.capsmedia.org or call 805-658-0500 for more information.