•   I hope that you enjoy our special coverage of Ventura's 150th Anniversary in this issue. There will be several events coming up to celebrate the anniversary (mentioned in this issue) so be sure to attend them.
•   A little information about Ventura that you will probably find very interesting (or not):
Coordinates: 34°16′30″N 119°13′40″W
Incorporated: April 2, 1866
Government:
Mayor: Erik Nasarenko
City Manager:  Mark Watkins
CA Senate: Hannah-Beth Jackson (D)
CA Assembly: Das Williams (D)
U.S. Congress: CA-24: Lois Capps (D)
CA-26: Julia Brownley (D)
Area:
Total: 32.095 sq mi
Land: 21.655 sq mi
Water: 10.440 sq mi   32.53%
Elevation: 36 ft
Population:
Total: 108,961 (more or less)
Rank: 4th in Ventura County
58th in California
•   The Cabrillo Music Theatre in Thousand Oaks will suspend productions at the end of the 2015-16 season in July which meant cancelling their next season. Cabrillo has been the professional musical theater company and only resident company at the Thousand Oaks Civic Arts Plaza for 22 years. Officials cited escalating theater costs, declining ticket sales and reduction in grant income as reasons for the decision. I hate to see this happen, as they present wonderful productions.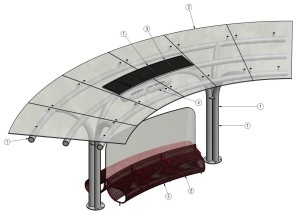 •   At a recent City Council meeting, the council was asked to approve and authorize the Mayor to execute a contract agreement with the bidder, NR Development, Inc., of Duarte, California, for the construction of the Ventura Bus Transfer Center Shelters Project for the amount of $295,500.
The design is meant to finally provide shelter from the rain that the existing "shelter" never provided. In their discussions, council members expressed such displeasure with the cost and design that a vote wasn't even taken to reject the project.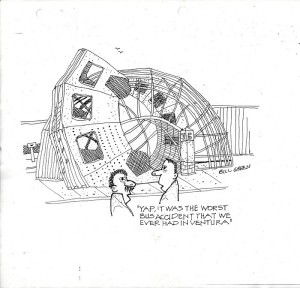 I certainly agree, as the proposed design is mostly glass and would take constant cleaning and upkeep, plus it would be highly subject to breakage and graffiti (carving). Plus, a good view of bird droppings would be provided.
It was approved by our Design Review Committee and Public Art Commission because they felt that it wouldn't distract from the original design of the shelter. I think it would be wonderful if it did distract from the original structure and design.
•   The on-again, off-again homeless service program at Harbor Community Church might be on-again.
Recently, the 9th U.S. Circuit Court of Appeals has revived the church's request for a preliminary injunction against Ventura which had previously shut down the program.
The Church sought the injunction in hopes that it can reopen Operation Embrace until its religious freedom lawsuit against the City is concluded.
The church has been represented by Stanford Law Professor James Sonne of the university's Religious Liberty Clinic.
Neighbors of the church have been very opposed to this use located in a residential neighborhood siting drug use and the fact that the church is located right next to a school and park. The City Council agreed.
I don't see this as a religious freedom situation at all, but rather a zoning consideration. Does a homeless shelter belong in a residential neighborhood?
•   A survey conducted by an independent research firm – commissioned by the city – to poll Venturan's on whether they would vote for a sales tax increase in November showed that a majority of citizens would vote yes.
Many opposed to the increase just don't think the money would be used for what was promised and would end up in the general fund.
That would certainly be my concern as well, as this often happens to revenue earmarked for specific causes.
The best example is what has happened to the millions of dollars spent on the State's lottery that was meant for our schools. Plus, every building permit issued has school funds added to it and yet all we hear is that our schools are underfunded – where does all of this money go?
•   I've always wondered if the people who think that Israel should give back land that they have won in wars also think that the United States should give most of California, Utah, Arizona and New Mexico back to Mexico (that we won or kind of bought).