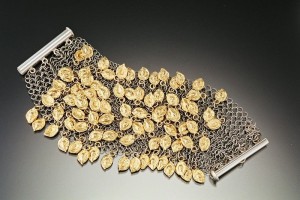 Saturday, February 6,  from 5:30 to 7:00 p.m.
Brooks Institute Screening Room
5301 N. Ventura Ave., Ventura
When does jewelry become art?  Is important jewelry made only with precious metals and gems? How does jewelry transform the wearer? These and other questions will be explored as Mary Galbraith visits with Jo Ellen Lee and Elaine Unzicker.  Free to FOTM Members – $10 General public, $5 students and seniors.
AfterGLOW Fundraising Event:  Join us for a celebratory supper prepared by Old Broads Catering Company immediately following the interview at the FOTM Archive & Library, 505 Poli Street, Suite 405,
The AfterGLOW is $25 for FOTM members, $35 for non-members.  Paid reservations are essential & required prior to January 29 for the AfterGLOW.  For RSVP and tickets visit:  FocusOnTheMasters.com or call 653.2501.
Tickets available online at:  www.FocusOnTheMasters.com or 653.2501