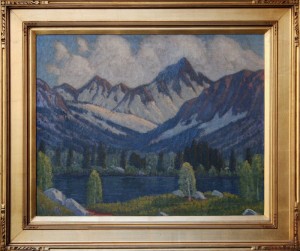 Buenaventura Art Association unveiled another dozen historical pieces of regional art with California Climates: Fire and Ice, at the Buenaventura Gallery in downtown Ventura. Among the desert and snow scenes in this addition to the California Heritage Collection are two works by a noted early landscape painter.
The collection is from the estate of a late Ventura couple who spent decades acquiring beautiful artworks in California and worldwide. Frequent visitors to their hometown gallery, the couple left instructions to involve BAA in offering the works for sale.
Regular gallery hours are 11 a.m.-5 p.m. Tuesdays through Saturdays. Private viewings of the California Heritage Collection are available by appointment. For more about BAA or this special collection, visit www.californiaheritagecollection.com, www.buenaventuragallery.org, or call 648-1235 during gallery hours.