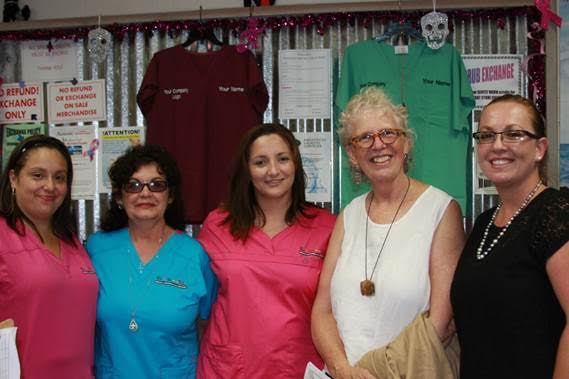 Reyna Chavez (far right) with her team of employees and Marsha Bailey (second from the right), CEO/Founder of Women's Economic Ventures
Women's Economic Ventures (WEV) recently hosted a reception and trolley tour of WEV client businesses located in downtown Ventura. The evening began at the Watermark on Main as guests mingled with local business owners who are currently enrolled in WEV's Thrive in Five® program which focuses on the growth of existing businesses. Following the reception, guests boarded a trolley that toured local businesses through Ventura that have been assisted by WEV's programs, including Self-Employment Training (SET) course, the WEV Loan program and Thrive in Five®.
Guests on the trolley tour were able to see firsthand the impact their support for WEV has on the community. The tour stopped to meet various WEV clients at their businesses including Julie Teron at Sauna Studio, Reyna Chavez at  Scrubs on the Run, Angela Rosales at Very Ventura Gift Shop and Gallery, and Adriana Perez at Skincare by Adriana. Each business owner shared their entrepreneurial journey and outlined how WEV's programs have supported the startup and growth of their business.
Since 1991, WEV has served over 13,000 clients, made over $4 million in microloans, and helped start or sustain an estimated 3,000 businesses supporting more than 4,000 local jobs throughout Ventura and Santa Barbara counties.
"WEV started almost 25 years ago to fill a need," says Marsha Bailey, WEV's Founder and CEO "While the number of woman-owned businesses in the U.S. is growing rapidly, women often lack the training, support and capital they need to grow and thrive. WEV provides that support."
Bailey is an advocate for female entrepreneurs on a local and national level, serving as a member of the National Women's Business Council and as the President of the Board of Directors of the national Association of Women's Business Centers.
For more information about supporting WEV programs, contact Danelle Mangone, Development Manager at 456-2347 or [email protected].