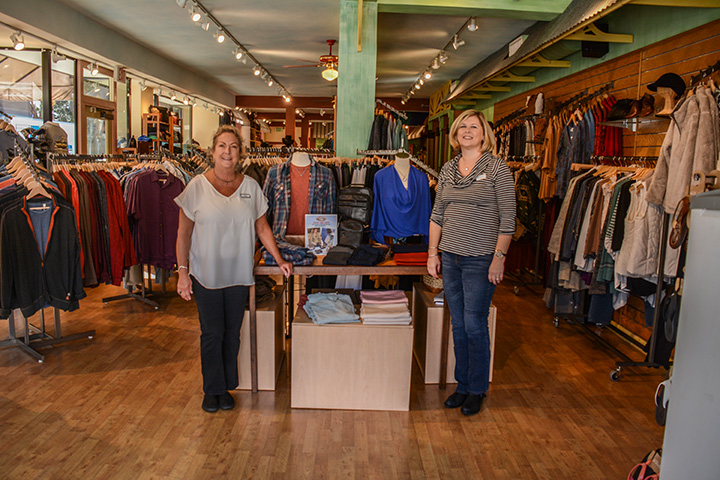 Parts Unknown sales lady Karen Peacock and store manager Jennifer Kildee are waiting to give you an upscale shopping experience.
Photos by Richard Lieberman
by Victoria Usher
Parts Unknown is a clothing store located at the corner of Main Street and Oak Street in the heart of downtown Ventura. It's a store that gives its shoppers an upscale shopping experience with an attitude toward adventure, travel, leisure, sports and the great outdoors.
Apparel and footwear for men and women are offered, as well as handbags and an assortment of leather accessories. The North Country, the Southwest, and the South Pacific are the three separate environments that are featured at the store venue. The vast array of both apparel and footwear are inspired by these three locales.
Some well-known brands that you can find at Parts Unknown include Brighton, Tommy Bahama, Nat Nast, Not Your Daughters jeans, Olukai, Born, Clark, Scully leather apparel and accessories, True Grit, Tori Richard and many others.
Dan Scully first opened the Ventura Parts Unknown store on the fourth of July, fourteen years ago. He and his family have been Ventura residents since 1976. Main Street was not always the desirable location for retail that it is today and so the decision was made not to open a store in Ventura. Over time, the street improved and then in 2001, Warner Brothers filmed the movie "Swordfish," in the old Bank of Italy building. The owner then convinced Dan to open the third Parts Unknown location in that very building once the film was done shooting.
The Ventura store is the third location of their six-store Parts Unknown chain. The other stores are located in distinctive, upscale locations: Carmel, CA, Solvang, CA, Santa Fe, NM, Fredericksburg, TX, Eureka Springs, AR, and there will be a seventh store coming soon in Cambria, CA.
The Ventura Parts Unknown store is open daily. You can drop by anytime to visit their friendly and experienced staff that will assist you with all of your shopping needs from head to toe. Their phone number is 648-4654 and their website is www.partsunknown.com.