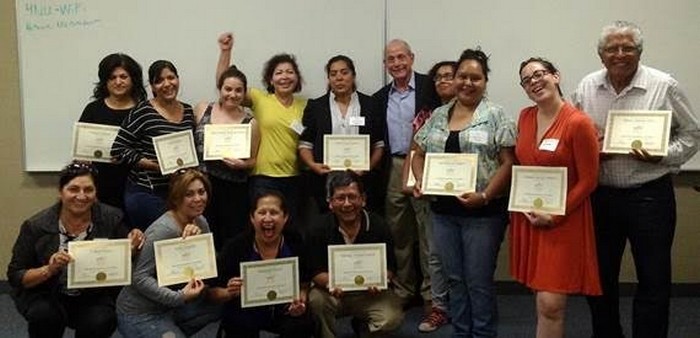 Some businesses include an art gallery, a hair salon and a housing cleaning service.
On Wednesday, August 12th, Women's Economic Ventures (WEV) celebrated the accomplishments of fourteen men and women graduating from the WEV en Español's Basic Self-Employment Training (SET) program.
Students in the four week course explored the risks and benefits of starting different businesses, characteristics important to becoming a successful entrepreneur, and they evaluated their own strengths and abilities. Graduates left the course with an understanding of whether they are ready to take the next steps in launching their own business.
"These graduates took a small but important step in determining their readiness for starting their own business," said Leticia Sandoval, WEV Spanish Program Coordinator. "We are excited to see what the next few months brings for each graduate."
WEV is dedicated to creating an equitable and just society through the economic empowerment of women. Since 1991, WEV has been providing self-employment training, technical assistance and microloans to primarily low-income women. WEV offers a continuum of programs to help both women and men start, stabilize and grow small businesses. WEV's service area includes Santa Barbara and Ventura Counties, with offices in Santa Barbara and Ventura. As a non-profit community lender, the WEV Loan Program provides start-up and expansion loans of up to $50,000. For more information, visit WEV's website at www.wevonline.org.