by Jennifer Tipton
I asked some younger Venturans,
"What is the spookiest part of Halloween?"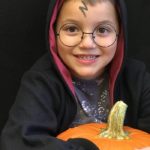 Eden Felder (Harry Potter)
age 6 ½ / 1st grade
"People dress up and go trick or treating, they put scary things out and make it spooky, like Jack 'O Lanterns and sometimes graveyards!" Eden's favorite candy is Jolly Ranchers, chocolate bars and Twinkies and he says, "my parents don't ever eat my candy".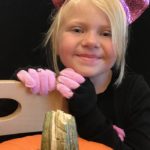 Raelyn Farnsworth (cat)
age 6 / 1st grade
"I think the spookiest thing is getting dressed up with scary costumes, the scariest I've seen is a monster with no eyes and vampire Jack 'O Lanterns are scary too!" Raelyn's favorite candy is a chocolate bar with cookie crumbs in it and ice cream. Raelyn says no one at her house can eat their candy, "except us".
See her sister's comment below …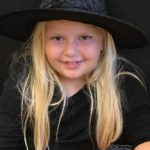 Kaitlynn Farnsworth (witch)
age 7/ 3rd grade
(turning 8 in November)
Gotta love this one-
Kaitlyn thinks the spookiest thing about Halloween is, "the people who hand out toothbrushes and super healthy stuff!" Her favorite candy is Snickers and she worries about all 3 of her sisters stealing her candy, "especially Raelyn!"
Aliyana Avila (cat)
age 6 / 1st grade
"Scary people that dress up like clowns! And witches are scary too!" Aliyana's favorite candy is Twix, "my mom and dad sometimes eat my candy when I'm at school, but they only take their favorites".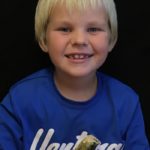 Kash LeClaire (baseball player)
age 7 / 2nd grade
"When you go to a creepy house! That's when I get freaked out!" Kash's favorite candy is "Hersheys and Reeses!" He has no worries about anyone at home getting into his candy but wants us to know his favorite thing on Halloween is, "the hot dog dude!"
See "the hot dog dude!" in this issue.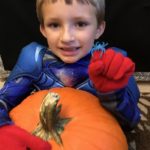 Timothy Shirk (Power Ranger "with accessories")
age 6 / 1st grade
"Getting your pants scared off by really scary things like bats, fake bats at houses and puppet bats, that's all I know about Halloween." Timothy likes Kit Kats the best and says no one ever gets into his candy because, "I have spy cameras with lasers and evil pumpkins!"
(and a great imagination Timothy!)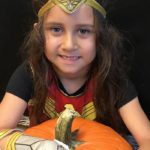 Sophia Ornelas (Wonder Woman)
age 6 / 1st grade
"The spookiest part about it is the ghosts, I've never seen one, but it scares me! And spiders, I see them on Halloween at my friend's house, she likes spiders." Sophia's favorite Halloween treat is candy corn and sometimes her mom does get into her candy after she goes trick or treating at "the whole place of Ventura".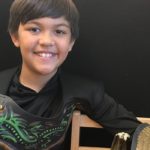 Kai Petralba (dragon warrior)
age 11 / 5th grade
"It's hard to explain but I think the spookiest thing is when you leave someone behind, one time we left our sister behind on accident, we went back, and she was mad at us."
Kai's favorite are Hershey bars, but he worries about candy thieves, "like my sisters, my dad, my step mom, my mom, my grandpa and gramma …"