Pickleball is the fastest growing sport in the U.S. and the PRC has added three more courts to meet the growing demand.  In conjunction with the celebration of its 46th Anniversary, a ribbon cutting ceremony was held at a mixer with the Ventura Chamber of Commerce on October 5th.
The PRC's 3 new courts now afford PRC members 8 courts to choose from, 5 of which are lit for night play.  5 of the courts are hard courts and the other 3 are all-weather courts with a surface that allows play when the other courts are wet and too slippery to enjoy safely.
The private membership Club first opened for tennis play in January 1977 and in October of that year, the Clubhouse opened. The PRC now offers 9 tennis courts and 8 pickleball courts in addition to two swimming pools and full fitness facilities.  In celebration of its 46th Anniversary the PRC is offering a 46% discount on join fees for the month of October.  Trial memberships are also available.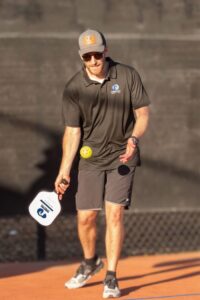 General Partner Spencer Garrett recalls that when the PRC first opened its door, racquetball was the fastest growing sport in the U.S.  The PRC originally had 4 courts and at one time had 6 racquetball courts.  Now the PRC offers only one court which gets limited play.  The other courts have since been converted to add additional fitness areas as well as a family game room with ping pong.
Spencer Garrett believes pickleball is here to stay and that it will keep growing.  "It's an easy sport to get started playing and can be a very social game allowing players to make new friends", commented Spencer.  The PRC has introductory clinics and scheduled time for open play for various levels of play.  Pickleball and tennis clinics are open to non-members as well as Club members.
Will pickleball replace tennis? Garrett doesn't think that will ever happen.  Tennis experienced a resurgence when Covid struck as people were looking for outdoor activities.  Tennis play is still strong at the PRC and while some tennis players are gravitating to pickleball, most of those are playing both sports.
"Most anyone with basic hand eye coordination can be playing in short order and there is always someone more than happy to explain the idiosyncrasies such as the kitchen and scoring.  Come down to the PRC and experience pickleball", added Garrett. www.pierpontrc.com.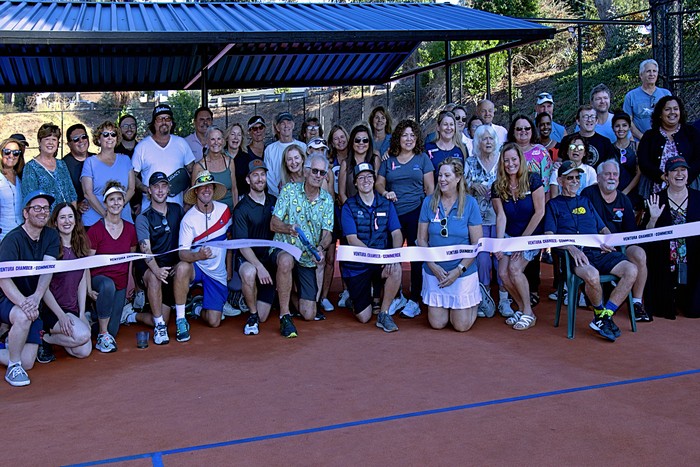 PRC Celebrates 46 Years!
In conjunction with the commemoration of its 46th Anniversary, PRC hosted a ribbon cutting ceremony during a vibrant mixer with the Ventura Chamber of Commerce on October 5th. This event not only marked PRC's remarkable history but also celebrated its continued commitment to fostering a vibrant community of racquet and paddle enthusiasts. As part of the club's 46th-anniversary celebrations, PRC is extending a generous 46% discount on join fees for the entire month of October, with trial memberships also available.
PRC would like to give a special thank you to Topa Topa Brewing Co. and Salzer's Pies & Pastries for their support in their anniversary celebration.