Ventura Mayor Joe Schroeder and Mike Marostica, local embarc owner.
After a lengthy, multi-year review process, embarc was the first of the selected operators to open their doors and begin serving the Ventura community, ushering in a new era of access to local cannabis dispensaries in the city.
Embarc is a well-respected dispensary operator, with Ventura marking its ninth store opening in a little more than three years in the Golden State. Embarc is known for its friendly staff, affordable price points, and wide variety of products to meet diverse needs.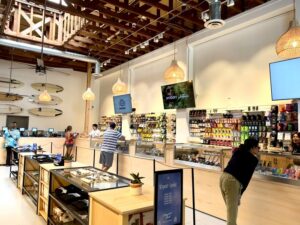 Embarc's Ventura operations will generate 6% of gross receipts as a local cannabis tax to the City for municipal priorities. In addition, embarc has allocated 1% of gross receipts for the lifetime of the business to local non-profit and community priorities such as youth education to ensure the business remains a community partner and good neighbor.
"Our team spent years engaged in a listening tour to understand the perspectives and priorities of community members from throughout the region," explains Lauren Carpenter, embarc's Chief Executive Officer. "I am so proud of our team for all of their dedication which has culminated in a retail store that I know the community can be proud of, too."
Embarc hosted a grand opening which was met with excitement from neighbors throughout midtown and from residents living in Ventura and beyond. As midtown continues to see significant investment in small, local businesses including hair salons, bookstores, coffee shops, yoga studios and more, embarc is a welcome addition to this corridor.
The Ventura location is embarc's first Southern California store and will serve as the jumping off point and flagship for the company's Southern California expansion. The space has been designed to reflect the free spirit and energy of Ventura, with beautiful exposed brick, bright light and vintage surfboards from local shops.
1890 East Main Street
Daily 9am-9pm