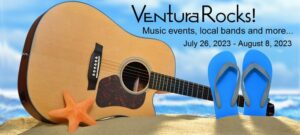 by Pam Baumgardner
VenturaRocks.com
I'm happy to report Ventura survived the X Games. You'd think by some of the social media posts that the city was going to be shut down with gridlock and overtaken by outsiders. The traffic was no worse than it is for the fair (which opens August 2), in fact, it was better. Great traffic control and I was amongst those who chose to ride their bikes. Though the "live music" turned out to be DJs (not live in my book), I loved watching the competitions, and well…just being a part of this fantastic event! Plus seeing Tony Hawk participate in the final event, the Men's Skate Vertical Best Trick was pretty cool. Well done, Ventura!!
Now, they'll be tearing down all that was built up for the X Games, and the Ventura County Fair will run August 2 – 13 with eight concerts (included with the price of admission): Midland, Patti Labelle, Collective Soul, Ashanti, Dia de la Familia, Trace Adkins, 38 Special and Tesla. Of course, outside the grandstand arena, live music abounds on a couple of different stages featuring lots of your favorite local bands including Shaky Feelin', Operation 90s, Sean Wiggins & Lone Goat, and more.
Ventura Music Hall has added a number of shows several of which piqued my interest. First off, Keanu Reeves is back at it and touring with Dogstar making a stop here in town on Friday, August 26 with what is being called the "Somewhere Between the Power Lines and Palm Trees" tour which is the name of their next release which lands on all platforms October 6. Next on my personal list, The Struts on December 6, and then Black Flag on January 14. It's interesting that past Black Flag lead singer, Henry Rollins, will be there November 7 with a "Good to See You" spoken-word sit-down show.
Harbor View Park 2023 Concerts by the Sea series continues with shows 4-6 pm on Saturday afternoons. Nautical Thrust plays July 29 and Ray Jaurique and the Uptown Brothers on August 5. This one is located at 3850 Harbor Blvd. in Oxnard, where you're welcomed to bring picnics, blankets and lawn chairs.
Quick Notes: Perla Batalla plays a sold out show at the Ojai Underground on Friday, July 28;
Andrew DeVries plays Surfers Point Café on Saturday July 29; Libbey Bowl concerts include Which One's Pink on Saturday, August 5, and Chris Isaak on Sunday, August 7; Friday evening Heritage Square Summer Concert Series continues with Los Xiquenos on July 28 and The Reunion on August 7; the Saturday evening Music Under the Stars at the Historic Olivas Adobe will host the K-Tell All-Stars on July 29, and Louie Cruz Beltran on August 5; and the Red Hot Cholo Peppers play Copper Blues on Saturday, August 5.
Do you have any music-related news or upcoming shows you want help publicizing? Please send all information short or long to [email protected], and for updated music listings daily, go to www.VenturaRocks.com.