So sorry to hear that Former Ventura Mayor Sandy Smith has passed away at the age of 77. Another victim of cancer.
Smith served on the Ventura City Council from 1997 to 2005 and was our mayor from 1999 to 2001. He was also a land-use consultant for Sespe Consulting and a senior adjunct professor at California Lutheran University.
Many also knew Smith as the former chef and owner of the closed Rosarito Beach Cafe in Ventura.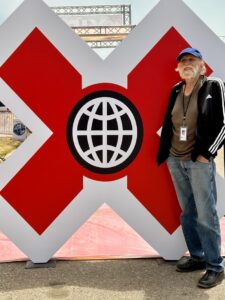 The X Games seems to have been a success and was very well attended. It had extensive coverage on ABC and ESPN. There were several transportation options which really helped traffic in and out of the site.
Hard to tell what the long-term results will be. Some of the athletes (and winners) were as young as 12. I'm sure many attending will decide this is a nice place to vacation and maybe live. So should have a positive impact, especially on our tourist trade.
One thing that really impressed me was the comradery between the athletes. Especially with the BMX and Moto X riders. It seemed as if they were just one big family happy no matter who won. An athlete would have a great ride and be congratulated with smiles and hugs even if it meant another rider lost their medal. They would hoist winners up on their shoulders parading them around. It seems there were no losers.
The amount of construction done was amazing, which will be removed. When a press conference was held before the games I asked, "Would there be improvements made to the fairgrounds." We were told "yes". I plan to go back in a few days and see if anything was really done.
Standing next to the Moto X ramps it was almost impossible to believe that motorcycles could possibly fly that far and land, but they did.
The City Council agreed to spend up to $250,000 on staffing, traffic mitigation, police overtime and other public services. I think that Ventura made an excellent deal in negotiating to get the games here. Cities spend much more than they hope to recover but Ventura did not do that.
The $250,000 investment to secure the X Games should generate at least that much tax revenue from hotel stays and other businesses now, and in the future.
Recently, the entire planet sweltered for the two unofficial hottest days on human record according to University of Maine scientists at the Climate Reanalyzer project.
For two straight days, the global average temperature spiked into uncharted territory.
Weather continues to be unusually hot while at the same time cities are experiencing huge rains and floods. Over 90 million Americans are under extreme heat warnings. Could this be a change in our weather?
The man who carved a love note into a wall at the Roman Colosseum wrote an apology letter to authorities in Rome. The tourist who infuriated a nation when he was captured scratching a love note into the wall claimed he didn't understand the history of the Roman monument. Perhaps he thought it was where USC plays football.
Kyle Fitzsimons, 39, of Maine, whose bloody, wild-eyed face became one of the most memorable images of the U.S. Capitol riot was sentenced to more than seven years in prison for hurling a bow like a spear at police and attacking several other officers.
He separately assaulted at least five officers near a tunnel as police desperately tried to protect an entrance to the Capitol from the angry mob of President Donald Trump's supporters, prosecutors said. Seems to me seven years is not nearly enough time.
---
I was reading the dictionary, I thought it was a poem about everything.
~ Steven Wright