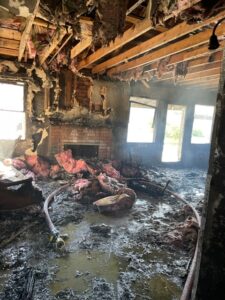 On July 21, at 8:45 am, the Ventura City Fire received a call of a reported structure fire in the 400 block of Nova Court. Upon arrival firefighters found a well involved single family residence with a report of a person trapped inside.
Firefighting crews immediately entered the building fighting fire and conducting a search for a victim. A deceased female was located inside the home. Firefighters extinguished the fire 14 minutes after arrival.
One adult male was treated and transported to the hospital for burns and smoke inhalation sustained while attempting to extinguish the fire with a garden hose.