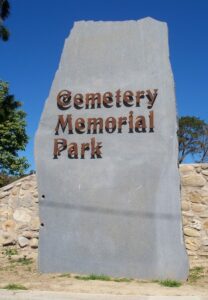 by Richard Senate
Few of the many graves are marked today at the park-like old city burial grounds.  It holds the remains of the rich, the poor. the well known and unknown individuals who built Ventura into a city.  Many were veterans of the Civil War, a few from the Spanish American War and some from the bloodbath of World War One.
But, the old cemetery also hold many mysteries, one of which came to my attention recently.  A new technology can now use sound waves transmitted into the earth to show what is buried below. This ground penetrating radar is a great  tool for archaeology because it can revel things without disturbing them. This new technology was used at the old Saint Mary's Catholic Cemetery, the west end of Memorial Park and at the burial plot of the prominent Olivas Family. There a discovery was made.
At the marked grave of Teodora Lopez Olivas, the wife of Raymundo Olivas and the mother of his twenty-one children, they found a casket buried there using the ground radar, confirming records that this is her burial site.  Next to her they found a second casket, that is believed to be the grave of her husband Raymundo who died before her, but no records exist to confirm this so his grave could not be marked with 100% certainty that he rests there.
That was the tradition of that era and its a good bet that he rests beside his beloved wife. The scan of the Olivas Plot also discovered a third casket and that is the mystery, who is buried there?   No records exist to tell who it might be, but the list of possible candidates isn't long.  It might be the final resting place of Dominga Olivas, a cousin who lived in Santa Barbara, who married Raimundo Jr. The youngest son of Don Raymundo (yes, they spelled their names differently). She died at the Olivas Adobe in Childbirth in 1891.  The child she bore died as well three weeks after birth.  Her husband was out of town on business in Santa Barbara when the baby came early. He was devastated by her death.  She had been a popular singer in Santa Barbara that earned her the title of "The Songbird of Santa Barbara." but she gave it all up to become Raimundo's wife.  She was looking forward to her new baby before everything went wrong.  He would have begged to have her buried close to him so as to visit her grave.
Other candidates might be Maria Dolores Olivas, born in 1851 and died as a child. She may have been buried at the Adobe before being moved to Saint Mary's when it opened in the 1860s. Another might be Jose Epitacis del Refugio born in 1847. He too could have been re- buried to be closer to his father and mother.  We may never know the full list of who was placed where at the Memorial Park cemetery due to many records being lost over the years. A mystery exists, who rests in the Olivas Plot? We can only be assured it was some very special to Raymundo and Teodora Olivas.