Saga of the Exploded Refrigerator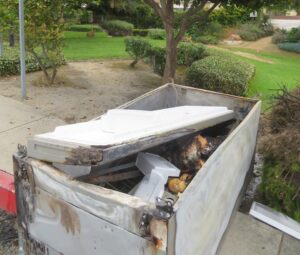 Apparently for two days a fridge was set out on the sidewalk near a small park down the street from us with a "Free" sign on it. The doors were still on it, we are told—dangerous of course.
Then it was blown up a day or so later. Then a huge bomb of some sort went off last night around 10:15 pm inside it. It had a metallic ring to it. It burned half of a grapefruit tree and a nearby shrub.
This morning my wife saw it on her walk and called the police. They looked it over and left. Other neighbors told us that the fire department had been there (a day?) before.
There it sits as a relic of a misbegotten 4th of July celebration or a kinetic postmodern sculpture.
Robert Chianese
Robert: You had more fun than most of us.