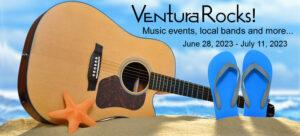 by Pam Baumgardner
VenturaRocks.com
Independence Day falls on a Tuesday this year with live music being offered at several venues including Ojai Valley Brewing with Blues Bullet immediately following the city's annual parade downtown; Raging Arb and the Redheads along with the return of Jackass will rock Bombay's during the afternoon (2-5); you'll find the Corsican Brothers at Winchesters from 6-9; and Los Amigos play Margarita Villa in the Harbor from 7 to 10 pm. If you plan your day just right, you could possibly cover all venues and still see the fireworks show at Ventura College.
Ventura Music Hall added a few dates to take note of including this year's American Idol winner, Iam Tongi on July 22, Then, there's the Kottonmouth Kings who play August 18, and another show I wouldn't want you to miss is Henry Rollins on November 7; it's his "Good to See You," spoken word tour which is a seated event.
If you're in the mood for aggressive rock/punk, then you won't want to miss Nardfest over the weekend of July 7 and 8 at the Oceanview Pavilion in Port Hueneme. Both days feature some of the greatest bands coming out of the Nardcore scene with Hirax, Downpresser, Dr. Know, Section H8, False Confession, Total Resistance, Burning Dog, Romper and Boilerman playing on Saturday; then it's JFA, Stalag 13, Punk Rock Karaoke, Grim, iDecline, Crucial Thought, Char-Man, No Remorse, The Robot Uprising and Indignants on Sunday. This is an all ages show with tickets through EventBrite, or pay no fees at the venue's box office.
Libbey Bowl concerts over the next two weeks include The Long Run (Eagles tribute) on Friday, June 30, Gin Blossoms on Saturday, July 1, Toad the Wet Sprocket on Wednesday, July 5; Lyle Lovett & his Large Band on Friday July 7, and the Smithereens with Marshall Crenshaw and Dishwalla on Saturday, July 8.
There's a new music studio called Creativity Through Music at Portside Ventura where they plan to offer ticketed events for a smaller intimate audience. Their first concert on Sunday, July 2 features Nicole Taylor, soprano and Natsha Marin on piano. Songs being performed will by Brahms, Rachmaninov, R. Strauss, Chausson and Hahn. You can find tickets on EventBrite.
Quick Notes: The Brite Room in Camarillo is offering an "adult" open mic on Wednesday, June 28; Heritage Square Summer Concert Series has the Brandon Ragan Project on Friday, July 7; Music Under the Stars kicks off the summer concert series with British Beat on Saturday, July 8 at the Olivas Adobe; Leashless Brewing celebrates their 6th anniversary with Morie & the Heavy Hitters and Kat Hall on Saturday, July 8; And Tommy Quayle returns for another night of his original music at Namba on Saturday, July 8.
Do you have any music-related news or upcoming shows you want help publicizing? Please send all information short or long to [email protected], and for updated music listings daily, go to www.VenturaRocks.com.