AWOW couples life-changing surf therapy and children that have unique needs.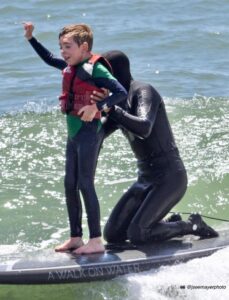 by Joseph Seemayer
The Ventura Pier, built in 1872, formerly known as the San Buenaventura Wharf is one of California's oldest wooden piers and is a favorite destination of California visitors. On the weekend of May 9th, A Walk On Water (AWOW) took advantage of the Ventura Pier and its surf for their Ventura event.
AWOW couples life-changing surf therapy and children that have unique needs. With the assistance of experienced instructors, the children are able to stand up on a surfboard and experience surfing for the very first time.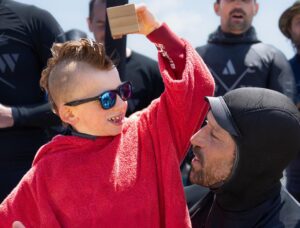 If you're not familiar with AWOW, its Vision and Mission are described on their website awalkonwater.org: "Harnessing the ocean's transformative powers, we deliver life-changing surf therapy to children with unique needs and their families. We constantly strive to enhance our programs, strengthen our community and provide access to more children in need and their families, while remaining true to our core values— Empowering children with a feeling of pride and accomplishment, as they unlock their inner athlete through the emotional and incredibly transforming experience of surfing."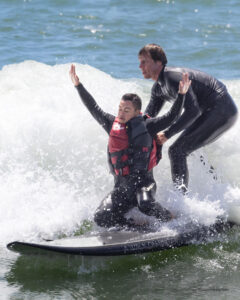 At the event, I had an opportunity to speak with A Walk on Water's cofounder Steven Lippman. I asked Steven what was the inspiration for A Walk on Water and the when and where did the organization begin.
"Founded in 2012", Steven answered, "our profound inspiration stems from the heartfelt desire to uplift families with special needs children. We are driven by a singular idea: to forge enduring connections, instill unwavering trust, curate transformative experiences, and foster unbreakable bonds."
"With our groundbreaking inaugural event in 2012, we have remained steadfast in our commitment to host two impactful events per year in the transformative setting of Ventura. Our unwavering dedication fuels our inspiration to continue creating life-changing moments for families in Ventura, striving to extend our meaningful presence for as long as humanly possible."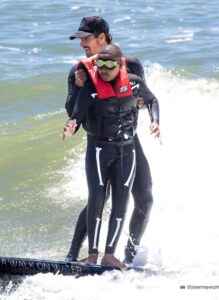 Surf industry executive Dale Rhodes, an AWOW Surf Therapist and Board-member, shared with me his thoughts from his time on the beach, during the event, with the new surfers and their families. "We had a wonderful day on the beach with sun and great surf, filled with lots of smiling faces from our athletes and their families. We call our children of unique needs "athletes" as they're surfers too. It's also a great day when the parents of their athletes can come to the beach, let their hair down and enjoy their day of watching their kids surf. There's healing elements in the salt water along with riding these waves that help build strong confidence in these athletes.
AWOW offers these athletes an experience that's most likely would be beyond their reach without the help of the AWOW organization and their highly skilled, compassionate instructors. Watching the expressions of shear joy of the athletes and new surfers is truly addicting. Attend the next AWOW event on October 14th from 8:00 am – 2:00 pm PDT at the Ventura Pier to share in the experience.