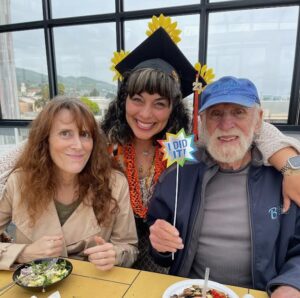 Congratulations to Ana Baker for going back to school and obtaining her AA degree from Ventura College while holding a full-time job. Now it's on to California State University Channel Islands. Staci and Sheldon helped her celebrate.
The Ventura Fire Department is currently hiring Lateral Firefighter-Paramedics. Learn more and apply online at www.CityofVentura.ca.gov/Jobs.
I apologize for not responding to birthday wishes sent to me on Facebook. I seldom look at Facebook. Thanks for your good wishes.
The Museum of Ventura County has announced the installation of three new exhibits, which will require temporarily closing the doors of the main campus at 100 East Main Street from May 29th through June 21st. Reopening on Thursday, June 22nd.
The Ventura City Council has approved (with recommendations and conditions) moving forward with the next steps for a major housing project proposed at 2325 Vista Del Mar by KB Development. The council voted 5-2 in favor of future action for 394 residential. Councilmembers Mike Johnson and Liz Campos voted no.
I agree with the two no votes, but perhaps for different reasons. With the hotel down the street near completion, plus whatever will be built in place of the Golden China when it is torn down , the traffic from Vista Del Mar to Seaward will be huge and not very manageable.
The vote means city staff will prepare a development agreement with the developer KB Home. The project will also require approval by the California Coastal Commission.
KB has agreed to a railroad crossing and funding traffic studies and also to pay for required upgrades. The city's 2005 general plan identifies the acreage for high-density residential use.
Stewart Rhodes, the founder and leader of the Oath Keepers, was sentenced to 18 years in prison for leading the insurrection to keep then-President Donald Trump in power after he lost the 2020 election. The sentence is the first handed down in over a decade for seditious conspiracy. "What we absolutely cannot have is a group of citizens who – because they did not like the outcome of an election, who did not believe the law was followed as it should be – foment revolution," District Judge Amit Mehta said before handing down the sentence.
"I'd like to start by just saying that I'm a political prisoner, and like President Trump, my only crime is opposing those who are destroying our country," Rhodes told Mehta in court. He is confused about who is trying to destroy our country and our democracy.
Jean Carroll, who this month won $5 million in damages from former President Donald J. Trump, is now seeking a "very substantial" additional amount in response to his insults on a CNN program just a day after she won her sexual abuse and defamation case. Ms. Carroll's filing in federal court seeks to intensify the financial pain for Mr. Trump.
The Ventura Planning Commission approved a proposal for a six-story mixed-use building in downtown. The project, which has 94 multi-family residential units, including 13 very low-income units, is located at 211 Thompson Blvd. and Figueroa Street. In a 4-2 vote, commissioners approved the major design review, a coastal development permit and a lot line adjustment.
With the commission's approval, the project can move forward unless it's appealed. A City Council approval is needed if the commission's decision is appealed. The project exceeds the maximum allowed height of four stories because it provides a certain number of affordable units. The state allows applicants to request a size increase under the Bonus Density Law as a way to encourage new housing developments to incorporate subsidized affordable units in exchange for more density.
The State has basically removed cities rights to conform to its own planning and zoning standards. If State guidelines are not followed the city could face potential lawsuits.