Photos by Patricia Schallert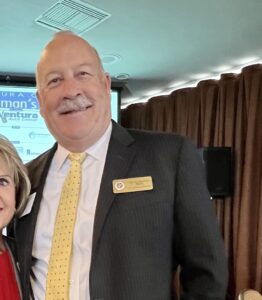 Ventura Mayor Joe Schroeder presented the annual State of the City Address at two events on Thursday, May 25, 2023. The first presentation was hosted by the Ventura Chamber of Commerce and held in the ballroom of Crowne Plaza Ventura Beach the second was held at the Museum of Ventura County and hosted by the City of Ventura.
Topics highlighted during the 2023 State of the City presentation included:
Overview of the Fiscal Year 2023-24 Budget.
Fiscal Year 2024 City Council goals.
The X Games coming to Ventura in July 2023.
Completion of the Classification & Compensation Study.
$173 million Water Infrastructure Finance and Innovation Act (WIFIA) loan for VenturaWaterPure.
Successfully securing over $66 million in grant funding for various Citywide projects.
Travel related spending and local tax revenue
Encouragement to get involved in the City's Economic Development Five Year Strategic Plan.
Project highlights and accomplishments from Community Development, Parks & Recreation, Public Works, Ventura Water, Police, and Fire.