Chief Endaya welcomes the latest batch of fire academy graduates. 
by Mira Reverente
Some people just seem to know what they want early on in life.
As a second grader, David Endaya knew he wanted to be a firefighter paramedic. His inspiration was a neighbor across the street, a real-life LA city firefighter. "He was my first vision of a firefighter in the flesh and what a firefighter did, aside from being just a really great person," says Endaya. "There were many after him but he was the one that definitely left a mark."
His parents, both immigrants, had instilled in Endaya and his older sister the value of education and hard work, so he attended college at UC Santa Barbara, while also taking paramedic classes at Santa Barbara City College.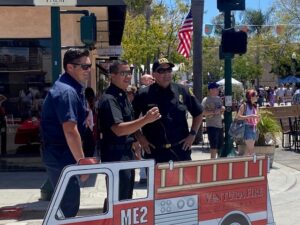 He became a paramedic back in 1994, with the City of Ventura, when the city still had ambulances. While most firefighters now get hired straight out of the fire academy, Endaya received some great advice when he was starting out. "I was advised to get my bachelor's first then earn my paramedic license," he says, recalling how stiff the competition was back then when the number of applicants far outnumbered the number of vacancies. "There were people ahead of me who had been testing for about a year or two so I had to learn how to test well and just be persistent and patient."
The best part of the job, as cliche as it sounds, is really the ability to help people on a daily basis. He remembers a horrible accident as a kid, not too far from his childhood home in Arleta, where the firefighters arrived and calmly worked the scene. Young David thought, "What a cool job that is to have the ability to work a scene calmly and know what to do."
It is humbling to realize that someone's best fighting chance at survival in a very dire situation is sometimes just you, according to the 52-year-old Endaya.. "You're almost never off-duty. You could be on vacation with your family or on a flight and you'll still be called to jump in if there's an emergency. It goes with the territory, in or out of uniform," he adds.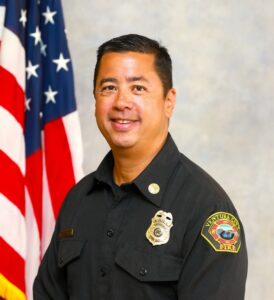 While most of us usually have pleasant thoughts and happy associations with holidays, Endaya associates some holidays with emergencies that transpired that day. They got seared in his mind and the memories have stayed with him through the years from his days as a paramedic to becoming fire chief in 2014.
In the past few years, he hasn't gone out on calls as much as he used to, until something large like the Thomas Fire happened in 2017. "I had to head out and help," he recalls that period. "It was all hands on deck but organized chaos. I'm really proud of how our county and the various agencies responded during that time."
About 70 to 85% of calls are medical emergencies. For example, a car crash is a separate type of call, but it often has a medical component. Another example is a structural fire. It has a medical component as well due to possible smoke inhalation. A majority of the calls are bonafide medical emergencies like trauma, seizures, childbirth and the like.
Also, the Safe Surrender program is still in place in most fire stations around California. Under this program, parents can safely surrender their newborns without any questions asked.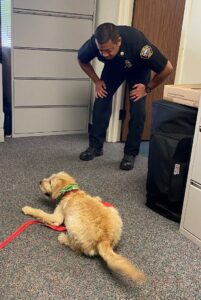 Looking forward, Endaya says a seventh fire station is being considered. The sixth and last one was built in 1988. Part of a five-year strategic plan is looking for potential locations and designs for number seven. Also looking at increasing gender diversity within the ranks and hiring more female firefighters. According to Endaya, there is no shortage of female applicants but the job market has become so competitive that prospects find themselves sifting through multiple job offers.
If he weren't fighting fires and attending to emergencies, he thinks he would still be in a job which allows him to make a difference. He says, "I've thought of becoming a helicopter or jet pilot maybe, but I know I just have to be around people and solving problems. I would be happiest doing that."