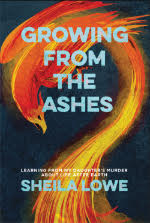 Ventura author Sheila Lowe has released her long-awaited memoir, Growing From the Ashes: Learning from my daughter's murder about life after earth.
In 2000, as a forensic handwriting examiner for many years, Sheila was alarmed to see the red flags for pathological behavior in the handwriting of her daughter's boyfriend, Tom Schnaible. An officer in federal law enforcement, Tom was an explosion waiting to happen. And when that explosion detonated less than a year later, it resulted in the murder of twenty-seven-year-old Jennifer Lowe.
This book, 23 years in the making, follows the author's spiritual path from a strict fundamentalist religion that bars any belief in a world of spirit, to the freedom of knowing that there is no death, only life after earth.
Growing From the Ashes can be ordered from any bookstore and online retailers. The audiobook will be available soon. www.sheilalowebooks.com