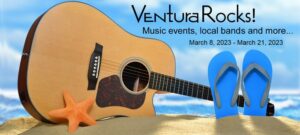 by Pam Baumgardner
VenturaRocks.com
If the recent English Beat show at the Ventura Music Hall got your motor running for more ska, then you're in luck! The 805 Ska Festival will be held at Oceanview Pavilion Performing Arts theater in Port Hueneme on March 18 with 8 Kalacas (Skacore from Orange County), Chencha Berrinches, Los Waraperos and more. This all ages show is $35 in advance (Eventbrite) or $40 at the door.
I have good news and bad news: The good news, The Violent Femmes will perform their 1983 debut album in its entirety at the Ventura Music Hall on Saturday, May 6; the bad news, it's already sold out.
There are a number of local artists holding CD/Album release parties including: Night Demon who will play a special show at Bombay's on Thursday, March 16 with opening act Romper;
Tommy Quayle will perform at Namba Performing Arts in support of his new release, Awakenings, on Saturday, March 18, and Karyn 805 will release her third recording, Gratitude, at Winchester's on March 31. Meanwhile, Medicine Hat just released their new single, "She Comes and She Goes" and Anchor and Bear are back in the studio, so looking forward to new music from them.
With St. Patrick's Day falling on a Friday this year, most venues will offer up Irish music and Irish specials to entice you into their doors. If you'd like something a little tamer, but a feast for the senses, then consider Phil Salazar and the Kin Folk at Namba Arts Studio. Phil is a legend around these parts being a fiddle champ and having played with legends such as Bob Weir. Joining him will be Tom Corbett on mandolin and guitar, Bill Knopf on banjo, Rick Borella on bass and Bill flores on everything else including steel guitar, and accordion. The program will include several genres such as rock, blues, country, jazz pop, bluegrass and of course traditional Irish.
Mark your calendars now: Joe Nichols has been added to the bill for Boots & Brews on May 7th;
Ventura Theater just added Angel for a show on April 26, Angel has been rockin' since the mid 70s; the Ventura Spring Wine Walk and Street Fair falls on Saturday, April 1; tickets for the Canned Heat show at Cantara on March 31 can be secured by contacting Cadillac Zack at (323) 377-5291; and the Guitar and Whiskey Club will open for Quiet Riot at the world famous Whiskey A-Go-Go on Saturday, March 25.
Quick Notes: Cool Hand Ukes play Saturday mornings at Harbor Cove Café; pianist Natasha Kislenko and Friends perform at the Ojai Art Center on Sunday, March 12; Los Lobos plays the Oxnard Performing Arts Center on Sunday, March 12; Tony's Pizzaria is offering live music again with the Stoneflys on Thursday, March 16, and Old School on Sunday, March 19; and finally, Barrelhouse Wailers will get you dancing at the House of Dance on Sunday, March 19.
Do you have any music-related news or upcoming shows you want help publicizing? Please send all information short or long to Pa[email protected], and for updated music listings daily, go to www.VenturaRocks.com.