Photos by Patricia Schallert
The show is curated by WAV resident artist Sarah Kalvin and will mark the thirteenth anniversary of the opening of the WAV in 2010. WAV is an innovative community that includes 55 live/ work spaces for artists, writers, musicians and other mediums.
Besides the children's art the First Friday opening included numerous local vendors with their arts and crafts for sale in the gallery's courtyard.
There was also live music.
"While once viewed as the controversial new addition to
Ventura's growing downtown cultural district, Venturans have come to eagerly anticipate the next display of WAV artists individualism," noted Sarah Kalvin.
WAV (Working Artists Ventura) is located at 175 S. Ventura Avenue.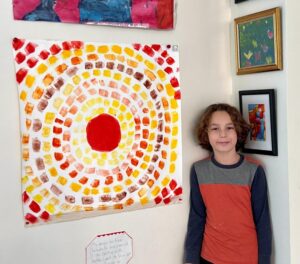 Nine-year-old Santiago Salazar likes to paint with pastels. He wants to be a chef when he grows up. He was inspired after going to the Grand Canyon and when he came home painted these pictures.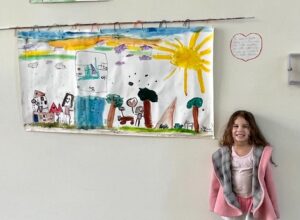 Sophia Salazar is four-years-old and likes creating art with paint. She wants to be a ballet teacher when she grows up.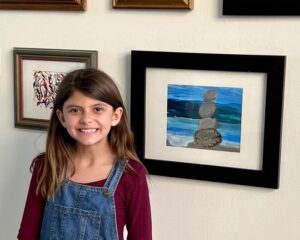 Vivian Sky Accola is the daughter of Sarah Willey who is an original WAV artist. Vivian is nine-years-old and enjoys acting, singing, dancing drawing and roller skating.