Ivor Davis with John Lennon
by Ivor Davis
Visiting Cuba has been on my bucket list for all my life and thanks to Ventura  College retired Professor Bill Hendricks—I finally—accompanied by a group of Ventura's notable local yokels—we recently made it to that beleaguered Caribbean country.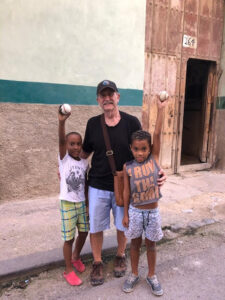 So let me keep it short and sweet:  Twas a  memorable, eye-opener visiting this country of absolute contradictions. And ineffable charm. Don't forget Cuba is a mere hop skip and jump from America–90 miles from Key West!
Along for the journey were California Appeals court Justice Steven Perren, Long time locals Clark, Diane and Grey Hubbard, as well as Scott Williams, who packed a bagful of baseball balls to give-away to delighted kids on the street. Real estate broker Karen Hoffberg who merrily danced on the streets of Havana and assorted Ventura College students who somehow managed to spend eight days in Cuba without sleep! For them it was a "Hard Day's Night!"
Apologies for not mentioning some of the other local dignitaries who cha-chaad their way through Cuba—but all that rum and the cigars and late night carousing has dimmed my memory.
But what remains vivid and memorable is this:
A visit to the John Lennon Park in Havana—where a bronze statue of the late Beatle sprawls for all to see.  I have had a passing acquaintance  with Mr. Lennon so I was happy to learn the story about John—told to me by Fidel's personal photographer Roberto Chile–and why it was the Liverpool Lennon—and not the Leningrad Vladimir Lenin—who was such a tourist attraction in Cuba.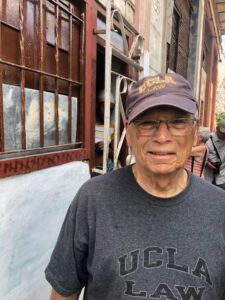 First John and the Beatles music was banned by Fidel as being part of the cliched "corrupt Western decadence." Then when Lennon went to war with the Nixon regime during the peak of the anti-Vietnam War movement, Fidel suddenly recognized him as a fellow revolutionary.
And thus in December 2000,  a park was born with Fidel unveiling the bronze as,  "All You Need Is Love" blared over loudspeakers.
For me the highlights included the fabulous food, visiting Havana's main synagogue which was generously unlocked for me, and where I noted that Steven Spielberg also got a personal tour a few years ago.
Biggest surprise: I went to the Cuban government cigar factory and shop—and much to my chagrin (would you believe)  they refused to take their own Cuban currency! Dollars, Si. But sorry no credit cards!
For a nation under duress, the Cubans were warm and welcoming.
Particularly after we all  unloaded suitcases laden with band-aids, clothes, toothpaste and children's clothing at the local church. And baseballs–of course!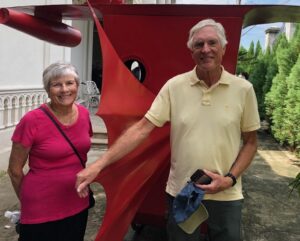 The food was fabulous, the internet was non existent–and our tour guide Alex was top notch with a great sense of humor.
Bill Hendricks is planning another "cultural trip" to Cuba later this year.
Go if you can. It's something you will never forget.  And maybe the Breeze will publish your adventures!!