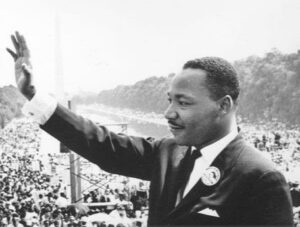 Martin Luther King, Jr. was one of the main leaders of the American civil rights movement. A Baptist minister by training, King became a civil rights activist early in his career, leading the Montgomery Bus Boycott. His efforts led to the 1963 March on Washington, where King delivered his "I Have a Dream" speech, raising public consciousness of the civil rights movement and establishing King as one of the greatest orators in American history.
In 1964, he became the youngest person to receive the Nobel Peace Prize for his efforts to end segregation and racial discrimination through civil disobedience and other non-violent means.
Martin Luther King, Jr. Day is a United States federal holiday marking the birthday of Martin Luther King, Jr. It is observed on the third Monday of January each year, which is around the time of King's birthday, January 15.
King was assassinated on April 4, 1968, in Memphis, Tennessee. He was posthumously awarded the Presidential Medal of Freedom by President Jimmy Carter in 1977. Martin Luther King Day was established as a national holiday in the United States in 1986. In 2004, King was posthumously awarded a Congressional Gold Medal.