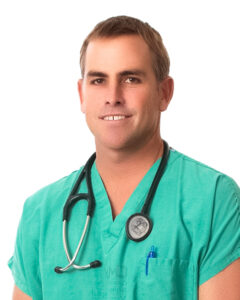 Community Memorial Health System welcomed a new Chief of Staff, Dr. Chris Johnson, on January 1, 2023. Dr. Johnson has been a longtime leader at Community Memorial Hospital in Ventura, and has served as Medical Director of the Emergency Department since 2009. Outgoing Chief of Staff, Dr. Deborah Carlson, served from January 1, 2021 – December 31, 2022.
"Dr. Carlson was our Chief of Staff during an extremely challenging time in healthcare," said Dr. Johnson. "She was able to make a significant positive impact on patient care and physician well-being, and our entire community will benefit from her contributions to Community Memorial."
One of Dr. Johnson's first priorities is to help ensure that the relationship between the medical staff and health system administration remains strong as Community Memorial welcomes a new CEO, Mick Zdeblick. Effective January 9, Zdeblick assumes the role from Gary K. Wilde, who is retiring after 18 years as President and CEO.
"This is a very exciting time for our health system because Mick Zdeblick comes highly regarded," said Dr. Johnson. "He brings a unique skill set which we feel will complement our already strong administration."
Dr. Johnson will also help implement a new Electronic Medical Record (EMR) across Community Memorial's network of hospitals and health centers over the next few years. The process has begun and once the new EMR is put into operation, physicians and patients will have greater access to health records. "A comprehensive EMR will help physicians provide care more seamlessly," Dr. Johnson said. "Health records will be accessible to physicians across the state, and patients will be able to view their information on a secure portal."
Dr. Johnson has enjoyed a long and successful career at Community Memorial Hospital. He joined the medical staff in 2001 after working as an emergency room physician at several other hospitals, including Cottage Hospital in Santa Barbara and Cedars Sinai Medical Center in Los Angeles. He has served as secretary of the Medical Staff since 2019, was the director of the Patient Safety Committee from 2003 – 2009, chaired the Department of Medicine from 2010 – 2012, and has been a member of the Medical Executive Committee since 2010. Dr. Johnson is also a former longtime director of the Carpinteria-Summerland Fire Protection District, and was its president in 2014 and 2015.
Dr. Johnson earned his medical degree from the University of Nevada School of Medicine, where he also served his internship. He completed his residency at Los Angeles County-USC Medical Center in Los Angeles, one of the busiest trauma centers in the world.
Outgoing Chief of Staff, Dr. Carlson, has served Community Memorial Hospital in many capacities, including as a Palliative Care Team physician, a Hospitalist, and as the original Program Director for Community Memorial Health System's Internal Medicine Residency Program. She has served as the Chief of Staff, Vice Chief of Staff, and as Secretary/Treasurer of the Medical Staff Executive Committee. Dr. Carlson also headed several other hospital committees, including serving as the first chair of the EMPOWER Committee (Employment of Metrics for the Promotion of Wellness and the Enhancement of Resilience), launched in 2020 to help the medical staff handle the stress and burnout brought on by the COVID-19 pandemic. Dr. Carlson has also chaired Community Memorial Hospital's Quality Assessment and Improvement Committee and the Department of Medicine, and she started the Inpatient Medicine Division.
"I am humbled by Dr. Carlson's achievements," Dr. Johnson said. "Those are big shoes to fill, and I look forward to tapping into her knowledge and skills in the future."