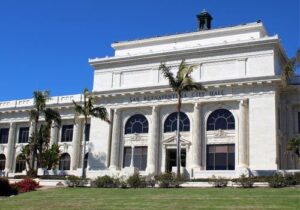 There are 7 members of the Ventura City Council.  Starting with the 2018 Election, four (4) Councilmembers were elected by Districts with the remaining three (3) Councilmembers elected by Districts in 2020.  While elected by Districts, each member represents the interests of the City as a whole.
Elections to select Councilmembers are held on the 1st Tuesday after the 1st Monday in November of the even numbered years. The newly elected Councilmembers assume their seat on the City Council in December, after the election is certified and serve for a term of four years.
At the same time, the Council is reorganized and one of its members is selected to be Mayor. The Mayor serves a term of 2 years. He/She is the presiding officer of the Council. The Mayor has been delegated the responsibility to act as the City Council's ceremonial representative at public events and functions. The Deputy Mayor is also selected in the same manner and serves a 2-year term.
City Councilmembers serve a term of 4 years with the terms being staggered on a 2-year basis with three (3) members being elected at one election and four (4) at the next. The terms commence from/after 8 p.m. of the day of the first regular meeting in December following the election. To be placed on the ballot a candidate, during the Nomination Period, must circulate a nomination form provided by the City Clerk, gathering not more than 30, but not less than 20 signatures of registered voters in that District to qualify for placement on the ballot. Please see Elections for more information on the District-Based Election process and Nomination Period Dates.
The election of members of the Council prior to 2018 had been from the City at-large with candidates receiving the highest number of votes shall be declared elected until the number declared elected equals the number of Council offices to be filled at the election. Starting with the 2018 Election, City Council members are elected by Districts. Candidates must live in their District and reside in that District once Elected.  All ties shall be decided by lot in the presence of the candidates concerned and under the direction of the election authorities.
These are the emails of your City Council members. If you think that something in the City is wrong or right or needs improving, please email them and let them know. They are there to serve you.
Bill McReynolds, Councilmember- District 5- [email protected]
Doug Halter, Councilmember – District 2 – [email protected]
Jeannette Sanchez-Palacios Deputy Mayor – District 4 [email protected]
Joe Schroeder, Mayor District 7 [email protected]
Mike Johnson, Councilmember District 3 [email protected]
Liz Campos, Councilmember- District 1- [email protected]
Jim Duran, Councilmember-District 6- [email protected]