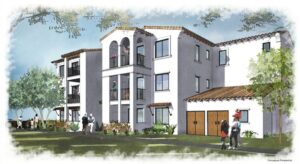 Housing Trust Fund Ventura County (Housing Trust Fund VC) announces a $2,500,000 predevelopment loan approved for funding to AMCAL Multi-Housing, Inc. (AMCAL) for the Terra Campagna Apartments set to begin construction in November in Somis.
The need for affordable housing is felt throughout Ventura County, especially among our most essential workers. The Terra Campagna Apartments will serve the county's large community of farmworkers and their families with 160 affordable housing units in Somis. This represents the second phase of the Somis Ranch Farmworkers Community development. Phase one consists of 200 units and is currently under construction with an anticipated completion date in the spring of 2024. Both developments will include community centers, social services, outdoor community spaces and play areas for all ages.
The Terra Campagna Apartments will provide high-quality affordable housing utilizing state-of-the-art design, providing modern amenities and on-site services to farmworker households with incomes at 30, 50, and 60 percent of AMI (Area Median Income). The site will include social gathering spaces designed to foster community including a resident garden and computer room. Tenants will coordinate with an on-site Social Service provider to determine programs which best serve the community. With a mind toward sustainability, the development will include energy efficient construction, solar PV generation, sustainable irrigation, and a non-smoking policy. "These apartments will not only provide affordable housing to one of our County's hardest-working communities, it will also provide important resources families need to build their future," said Linda Braunschweiger, CEO of Housing Trust Fund VC and Housing Land Trust VC. "Affordable housing is about more than building structures, it's about creating a strong and stable foundation for our residents, which in turn helps our community to thrive as a more inclusive environment in which we all work, raise our children, and live."
This development is funded in part by Housing Trust Fund VC's Everyone Deserves a Home Revolving Loan Fund, which provides below-market interest rate loans for the development of affordable housing in Ventura County. This spring, Housing Trust Fund VC received a Community Impact Note (at below market interest rate) from CBC Federal Credit Union for $250,000. This Note is combined with funds from other public and private investors and donors to provide lending capital in support of Housing Trust Fund VC's promise of building safe and equitable homes in Ventura County.
Housing Trust Fund Ventura County – Launched as a 501c3 nonprofit corporation in 2011, Housing Trust Fund VC is the local trusted leader in helping to increase affordable housing options throughout Ventura County by leveraging public-private partnerships to provide low-cost, flexible loans early in the housing development cycle. As of June 2022, Housing Trust Fund VC has committed to investing $26 million through its Revolving Loan Fund, creating 1,166 affordable apartments and homes for very-low, low- and middle-income employees, transitional age foster youth, veterans, farm workers, and the homeless.