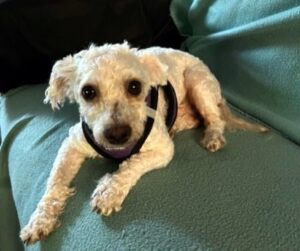 Hi: I'm Thumper, a shy 7-year-old Miniature Poodle X that was found on a trail in Simi Valley. I was adopted from Animal Services by someone who unfortunately discovered he was allergic to me.
I'm super sweet and just want to cuddle all the time with my people. I will stick to you like glue, especially on walks. I'm house-trained and seem to know a few commands like sit, stay and come here.
I am very shy around other dogs and cats, but not aggressive. I was found with a stray Pug who was my best bud––so I'll warm up to furry friends if I can get to know them gradually.
People call me Thumper because my tail shakes very vigorously, thumping loudly against any walls, floors and surfaces nearby.
If you're interested in meeting me, please fill out an online application.
Canine Adoption and Rescue League C.A.R.L.CARL Adoption Center-call 644-7387 for more information.
---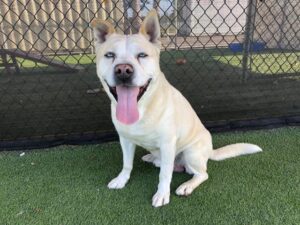 Meet Lobo. He's a cuddly and happy 9-year-old Husky mix. He's a staff and volunteer favorite! He loves people and has lived in a home with other dogs. He's house-trained and loves to cuddle. He'll follow you around the house to see what you're doing, then take a nap in his bed. He loves to play ball and going for walks around the neighborhood.
If you'd like to meet Lobo, schedule an appointment at https://www.vcas.us/adopt or come down to the Camarillo Shelter during normal Adoption Hours of 1:00pm – 6:00pm Tuesday – Sunday. If you have questions, please contact us at (805) 388-4341 or [email protected].
Kennel: 001