Two of Dignity Health St John's Regional Medical Center employees will be recognized
by the West Ventura County Business Alliance as part of their annual Oxnard Community & Business Awards. The awards will be presented at a luncheon next week.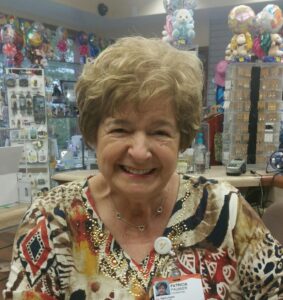 Distinguished Citizen of the Year – Patty Paumier
For decades, Patty Paumier has played a significant role in Oxnard, particularly at St. John's Regional Medical Center. She is the manager of the gift shop at St. John's Regional Medical Center and a longtime hospital and community volunteer. Her passion for helping others and her dedication and service to St. John's hospitals are evident in the more than 40 years of service she has contributed to St. John's. Thanks to her leadership, the SJRMC gift shop donates a portion of its funds to support the purchase of lifesaving equipment at SJRMC.
Patty's contributions to St. John's hospitals are immeasurable. She is loved and appreciated by all hospital staff and the community alike. If Patty sees a hungry person, she will buy them a meal. If she sees someone feeling blue, she hears them out. If someone is celebrating a win, she cheers them on. Patty has truly dedicated herself to serving others, which has helped promote a healing environment at St. John's and has had a remarkable impact in our community.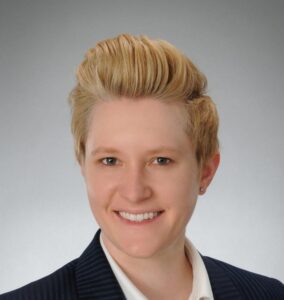 Young Professional of the Year – Emma Grossman
Emma Grossman's work at St. John's Regional Medical Center and St. John's Hospital Camarillo goes far beyond her role as Chief Financial Officer. As a Ventura County native, Emma approaches every project and initiative with one common goal–caring for the community.
Emma is thoughtful, diligent, and a natural-born leader. She joined St. John's at the height of the COVID-19 pandemic. While the pandemic has presented some of the most significant challenges for health care and society, Emma has handled it gracefully. From day one, she rolled up her sleeves to lead the hospital's financial efforts while also being essential to resource management. At a time when resources were not abundant, she and her team consistently went above and beyond to ensure the hospital and community were more than equipped to navigate a surge in patients. Whether lending a hand in other departments or offering advice, Emma leads with kindness.
Emma began her public accounting career working in audit and taxation for national Certified Public Accounting (CPA) firms. She has held positions of increasing responsibility ranging from financial analyst to Controller. Emma holds a Masters in Accounting from the University of Southern California Leventhal School Of Accounting and a Bachelor of Arts in Business Studies from Drew University. She is a licensed Certified Public Accountant in California.