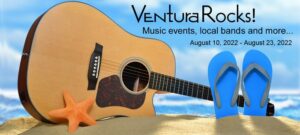 by Pam Baumgardner
VenturaRocks.com
August is in full swing and with it a whole lotta live music in and around Ventura County. The Ventura County Fair is in its second week of its 10-day run and the final Grandstand Stage concert is Wednesday, August 10, with Cheap Trick. That being said, the Station Stage will continue to rock with local favorites through Sunday, August 14. Be sure to check out VenturaRocks.com photo gallery for band photos taken at the Fair this season.
Chick Singer Night just announced their newest City Chapter Director is Ventura's own Jodi Farrell. Jodi has been an integral part of Ventura's music scene for so many years fronting the Front Street Prophets, performing with TreCoustics, and now with Jim Rankin as a duo. So many performers have been tutored and mentored via Jodi Farrell's Music Studio and before that when she taught at Ventura Community College. She teaches voice, guitar and piano for all skill levels. She's received many awards along the way including the 2016 Mayor's Art Award for Arts Educator. Congratulations Jodi, this is so well deserved!!
Cadillac Zack presents 1960's blues & rock legends Canned Heat at Cantara Cellars in Camarillo, on Thursday, August 18. If your memory is straining to remember, let me help you out. They had hits such as "Let's Work Together," "On the Road Again," and "Going Up the Country." They played the 1967 Monterey Pop Festival and had a headlining slot at the original Woodstock. Trust me when I say, you won't want to miss this amazing night of live music! Just text Zack for ticket information at (323) 377-5291.
Poseidon Brewing will be celebrating their 8th anniversary over the weekend of 8/12-8/14 with Vanise Terry Band, The Dynasties, Morrison Drive and Let's be Frank performing.
To satisfy your need for live country music, there's Boots and Brews on Saturday August 20 with Cole Swindell, Eddie Montgomery and Raelynn. Surfer's Point Live at the Ventura County Fairgrounds. Get your tickets at BootsAndBrews.com.
I admit that I absolutely love the different community sponsored music events such as Music Under the Stars at Olivas Adobe whose shows are all sold out for the rest of the season, but rest assured there are a number of free events nearby including the Heritage Square Summer Concert Series in Oxnard with The British Beat on Friday, August 12 6 – 8:30pm and Caliente 805 on Friday August 19; the Summer Concert Series at Constitution Park in Camarillo will have Country Nation on Saturday, August 27 from 7 -9 pm; and the Collection in Oxnard has DSB (tribute to Journey) on Wednesday, August 10 6 – 8:30 pm.
And though they're not live music events, the Ojai Film Society is offering free screenings of a couple of music related movies at the Libbey Bowl. First the documentary, "Summer of Soul" on Friday, August 12, and then "Yesterday" which features the Beatles reimagined when a phenomena hits during a blackout and wipes out most people's memories of the Beatles, this one screens on Friday, August 26. Though free, you'll need to RSVP through Eventbrite.
Emmy winning artist, Camara Kambon (for his score in the HBO film, "Sonny Liston" the Mysterious Life and Death of a Champion") performs at Namba with Javier Vergara on tenor sax, Adam Cohen on bass and Chris Blondal on drums. Tickets are only $20 for this intimate show on Friday, August 12.
New shows added at the Ventura Theater:
Silversun Pickups Sunday, October 2
Marcus Mumford Tuesday, October 4
Gogol Bordello on Saturday, November 5
The Wrecks on Saturday, November 19
New shows at Ventura Music Hall
Too Many Zooz, September 29
Ocean All, October 7
The Slackers, December 9
Squirrel Nut Zippers, December 17
Hirie, February 22
New shows at Libbey Bowl:
Elvin Bishop & Charlie Musselwhite on September 30
Ben Harper on October 6
Mark on your calendars for upcoming events: the Hueneme Beach Festival the last weekend of August, and the return of the Aloha Beach Festival along at Promenade Park (Surfer's Point) the following weekend, September 3 and 4. What's also so very nice is that both of these events are free!! I'll have more in the next issue of the Ventura Breeze.
Quick Notes: Tommy Foytek's Variety Show continues on Wednesday nights at the Lookout Bar & Grill in Oxnard; reggae Sundays continue at Café Fiore through the end of summer.
Glenn Bennett has a Thursday afternoon residency at the Copa Cubana; Mustangs of the West play the Ojai Underground on Thursday, August 11; Katie Shorey has a Disco Nite at Cantara on Friday, August 12; Romper plays at date at the Deer Lodge on Friday, August 12;
Barrelhouse Wailers play Strey Cellars in Oxnard on Friday, August 19; the legendary Three Dog Night play Libbey Bowl on Friday, August 19; and Pato Banton plays Mrs. Olson's on Saturday, August 20.
And then finally, Taste of Local returns this year on Sunday, September 11 presented by Totally Local VC Agricultural Education Foundation. I was thrilled when Kat Merrick reached out and invited VenturaRocks to host the music stage where the Rose Valley Thorns will be just one of the acts performing. You can find out more about this wonderful event at TotallyLocalVC.com and I hope to see you there!
Do you have any music-related news or upcoming shows you want help publicizing? Please send all information short or long to [email protected], and for updated music listings daily, go to www.VenturaRocks.com.