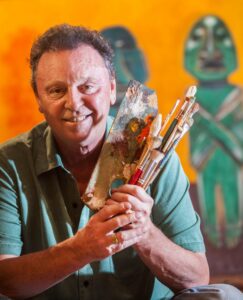 More exciting news from Rubicon Theatre Company as the organization officially opens a show of fine art by internationally renowned artist Michael O'Kelly.
During the pandemic, leadership at Rubicon sought to reimagine underutilized spaces at the Main and Laurel location. Board President Doug Halter shares, "For 24 years, Rubicon has been key to Ventura's cultural vitality, but we want to invite new people into this wonderful space." After assessing every inch of the building, Sandra and Jordan Laby Hall was re-envisioned as a gallery, allowing the company to fold visual arts into its programming.
With the idea in place, the first call was to Michael O'Kelly, who makes Ventura his home. The artist advised on how to best present and hang fine art, and then promised to provide 24 stunning works for the premier show in the Sandra and Jordan Laby Hall gallery.
Both Halter, a City Council member, and Rubicon Co-founder and Producing Artistic Director Karyl Lynn Burns are big O'Kelly fans. "What a treasure Michael is!" says Burns, citing his work worldwide as well as his local projects: the Miriam Schwab bronze at Ventura College, the facade designs for Limon 'Y Sol and Star Lounge, and of course, his monumental ceramic mural at the Mission. "Collaborating with Michael has been an utter joy. We anticipate many future ventures with him, but those plans are under wraps." this last said with a smile.
O'Kelly has a long and storied history in the art world. A prodigy, Michael sold his first work of art at the age of nine. By 13, he was studying with the infamous British forger Thomas Keating. Much later, in Mexico City, O'Kelly worked under the great Maestro Rufino Tamayo. Michael has exhibited in over forty-nine art galleries and museums on three continents, including the Commonwealth Institute, the Centro Iberoamericano in Madrid, and the Santa Barbara Museum.
He's curated significant collections of ethnographic art for the Museum of Mankind (British Museum), the Binche Museum in Belgium, and the Brighton Museum in England and co-produced major international exhibitions at the Plastic Arts Museum in Moscow, the Hermitage in Russia, and the Edvard Munch Museum in Oslo. Additionally, O'Kelly has illustrated several history reference books. His exquisite handmade ceramic murals adorn the walls of Disneyland/World, along with many public buildings in Vegas, Nevada, and California.
This partnership between one of the largest arts organizations in Ventura and a freelance artist shows how the creative sector might evolve post-pandemic. "There's enormous undeveloped potential in Ventura." Burns bubbles, "We must think big and find innovative ways to grow our creative economy. The status quo won't do." If left to Rubicon and O'Kelly, the future will be rich with partnerships such as theirs.
The official opening of O'Kelly's show is at 6:30 p.m. on July 21. O'Kelly will be on hand to chat about his process, with music, wine, and light snacks provided for attendees.