---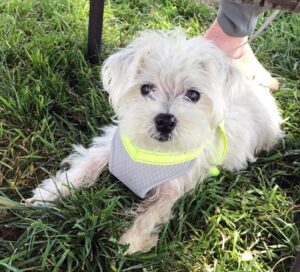 Hi: I'm Milo, a very sweet almost 8 year old Maltese in need of a new home as my owners can no longer afford my medical care for skin allergies and sometimes I get ear and eye infections.
I'm taking Prednisone every other day and need a medicated bath at least once a week to help with my skin allergies. It was also recommended that Genteal brand eye ointment be put in both my eyes twice a day.
I'm good with other dogs and cats. I've been around children as young as 8 months old and did fine. I enjoy walks, a comfy lap, children, older people and watching tv next to someone.
If you are interested in meeting me, please fill out an online application. Canine Adoption and Rescue League C.A.R.L. CARL Adoption Center-call 644-7387 for more information.
---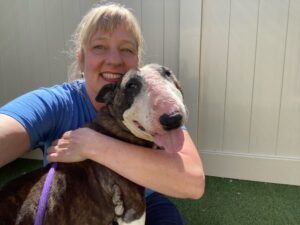 Meet Sammie, a cuddly 5-year-old Bull Terrier! She's a happy, playful, snuggly lapdog. She loves walks and belly scratches! She was non-reactive when walking past other shelter dogs and did very well with unfamiliar people. She truly seems like a people-pleaser! If you're interested in adopting Sammie, please come to the Camarillo Shelter and ask for her by name, or schedule an Adoption Counseling appointment at https://www.vcas.us/adopt.
Adoption Process:  www.vcas.us/adopt Animal ID: A794866