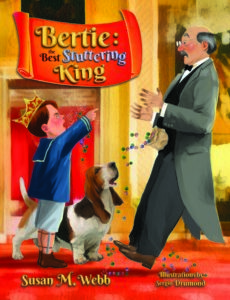 Local author Susan M. Webb is pleased to announce the launch of her children's picture book, "Bertie: The Best Stuttering King" recently. The book highlights the struggles of Queen Elizabeth's father, King George VI, and how he overcame a severe stutter and physical ailments to become one of the best monarchs of 20th Century Europe. The book's launch coincides with the Queen's Platinum Jubilee events in 2022, marking her 70 years on the throne following the passing of her father, affectionately known as "Bertie."
Ms. Webb's picture book is for children ages 7-12 and features a rhyming tale paired with colorful illustrations created by renowned illustrator Sergio Drumond.
States author Webb, "I wanted to tell the story of King George VI, affectionally called "Bertie," in rhyme. Repeating rhymes was a therapy technique used by Bertie's own speech therapist, Lionel Logue, to help the king with his stutter. I hope this book will be a valuable tool for young stutterers."
Tidbits of royal history are packed into forty pages.
Ms. Webb sailed in Queen Elizabeth's Diamond Jubilee Flotilla on the Thames in 2012, and is traveling to London in June for her Platinum Jubilee events. She traces her English roots back to John Alden and Myles Standish of Mayflower fame.
"Bertie: The Best Stuttering King" can be found at: www.TheBookPatch.com or on Amazon in soft cover and e-book format.
For more information on King George VI ("Bertie"), stuttering resources, games for children, blogs, author interviews, and newsletters, visit Ms. Webb's website at: www.susanmwebb.com.