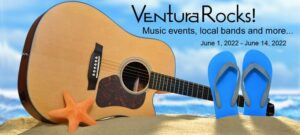 by Pam Baumgardner
VenturaRocks.com
The Ojai Blues Fest at the Ojai Art Center returns on Saturday, June 4. It's always a treat when Tommy Marsh returns to town after picking up and leaving us for Tennessee to build a Nashville audience. Trust me when I say, the talent will not disappoint! Tickets are available on EventBrite.com. Here's the current time lineup: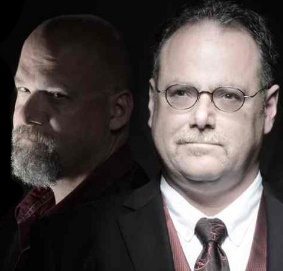 1:30 – Milo Sledge
2:00 – Crooked Eye Tommy
3:30 – Chuck Strong & SRBQ
4:30 – Ray Jaurique & the Uptown Brothers
5:30 – Sandy Haley Band
6:30 – Guy Martin
8:00 – All-star Jam Session
The 75th anniversary of the Ojai Music Festival runs June 9 – June 12 at the Libbey Bowl. Tickets for each event run between $20 and $150; but on Sunday, June 12, all are invited to two free events at Libbey Park. The first, Dance in the Park, features the dance duo Julia Eichten and Bret Easterling, celebrating tenderness, togetherness, and fierce joy; and then that afternoon, Rome is Falling is a high-energy new telling where song, spoken word, and driving music come together to contextualize the action with audience engagement and the performance of a local children's choir. For more details on all performances and to secure your tickets, go to OjaiFestival.org.
The Glass Animals concert at the Ventura Theater wasn't announced until 9 am on Wednesday, May 18 and tickets went on sale that day at noon which promptly sold out for their show the following Wednesday, May 25, at the Ventura Theater…which by the way was fabulous.
Future shows on sale now for the Ventura Theater include Third Eye Blind for Saturday, August 6, Billy Idol on Thursday, August 25, Hollie Cook (from all-female punk/reggae band, the Slits) on Saturday, September 24, Black Flag on Saturday, October 29, and AFI on Friday, November 25. If you don't want to miss out, you'll want to keep your eye on their calendar as you never know when new dates will pop up (such as the Glass Animals).
Heading around the corner and down the block (or two) to the all-new Ventura Music Hall, I'm happy to report that I've secured tickets for the Mike Campbell & the Dirty Knobs show for Sunday, June 12. Come on!!! He co-wrote so many hits with Tom Petty (Refugee, Here Comes My Girl, Runnin' Down a Dream), you know it's going to rock!! New dates added recently include Guttermouth on Sunday, July 3 (happy to say local bands False Confession and Romper will open), Memphis May Fire out of Texas plays Tuesday, July 19 and Jerry's Middle Finger will bring in the "Deadheads" when they play Friday, July 29.
Over on Main Street, midtown Ventura, the Grape has Casey Abrams, former American Idol contestant and current member of Postmodern Jukebox, returning for a show on Saturday, June 4, then the venue will go into overdrive when they open on Sunday and Monday (traditionally closed) for two special concerts. Firstly, on June 5, it's Dreamland band, a Joni Mitchell tribute, featuring Kimberly Ford on vocals and guitar and then on Monday, June 6, the Dave Weckl/Tom Kennedy Projects with their high energy jazz fusion. Weckl was inducted into the Modern Drummer Hall of Fame in 2000. Tickets are available for these shows at TheGrapeVentura.com.
The Toni Jannotta Jazz Trio plays Peirano's on the Terrazza Friday, June 3, with Terry Simcik on guitar and Tom Etchart on bass. Toni then leaves for Europe to sing in the Langtoun Jazz Festival in Kirkcaldy, Scotland.
Here's a fun, or not-so-fun fact: all reserved tables and special ramadas for all concerts are sold out for Music Under the Stars this summer. Tickets still available for general admission include Identity Theft on July 23, Rhythm Krewe on August 6 and Lisa Haley & the Zdekats on August 27, all other shows totally sold out. You can either purchase tickets at Ventura City Hall or over the phone (805) 658-4726.
Quick Notes: just announced, Uncle Cracker will perform at BBQ Fest 2022 at Surfer's Point Live (Ventura Fairgrounds) on Saturday, June 11; Surfers Point Café will hold a grand opening celebration on Saturday, June 11, featuring the loveable CocoKnots and their tropical blend of music with a sprinkling of pop & jazz classics from 1 -4 pm; Cadillac Zack presents Aki Kumar, Bollywood blues, at Namba on Friday, June 10; Iain Matthews and Steve Postell (founding members of British folk rock bands) play the Ojai Underground Friday, June 3; Mack and D start up their Thursday evening residency at 1901; Tickets are on sale for the Hip Hop edition of Sunday Funday with Flo Rida and Lil Jon at Surfer's Point Live (Ventura Fairgrounds parking lot); and Mick Stover (bassist Dive Bar Messiahs, Gentlemen's Blues Club) has started a new 80s dance cover band called '80 Reasons 2 Dance, you can catch them at Margarita Villa on July 9.
The Pam Baumgardner Music Hour continues to support and play local artist out of the 805, as well as artists who come here to play. Mary Z Wilson continues to be a great asset talking about the history of Americana here in town; she'll be sharing music from Donna Lynn Caskey, Merlin Snider and Cyrus Clarke on the next episode, (#162) which runs 5/31 – 6/12 and airs Tuesdays and Fridays at 5:00 pm and Sundays at noon. Tune into KPPQ-LP at 104.1 FM here in Ventura, or listen via the MyTuner radio app on your smart device, or online at CapsMedia.org/Radio.
Do you have any music-related news or upcoming shows you want help publicizing? Please send all information short or long to [email protected], and for updated music listings daily, go to www.VenturaRocks.com.