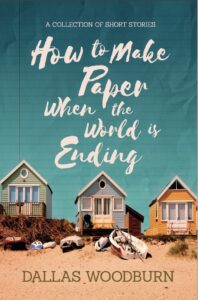 Award-winning author—and Ventura native—Dallas Woodburn's new short story collection How to Make Paper When the World is Ending (Koehler Books) releases on June 28, and locals might find something familiar about the settings of many of the stories. The pier… the beach… the boardwalk… Yes, many of the stories take place in a "fictionalized Ventura," Woodburn notes. 
This is not the first time her hometown has made its way into her fiction. Woodburn's story collection Woman, Running Late, in a Dress also featured familiar settings such as the beach, lemon orchards, and downtown Main Street. And readers will recognize Ventura in her latest novel, Thanks, Carissa, For Ruining My Life. "I was definitely picturing Ventura in my mind as I wrote," she says. "The high school was Ventura High. The bowling alley was Buena Lanes. Their favorite restaurant is based on Snapper Jack's Taco Shack. There are little clues throughout the book." 
Woodburn says that the setting for her fiction is not something she logically plans out, but rather rises up organically through the creative process. "I wrote the first draft of my novel and many of these stories when I was a grad student at Purdue University in Indiana," she continues. "I was homesick for Ventura, and escaping into my fiction felt like visiting home."
How to Make Paper When the World is Ending is a collection of short stories that explores and reimagines the ghost story. Reedsy Discovery praised the book as "a magnificent compendium of slightly spooky stories that will chill, delight and amuse you" and author Gregory Spatz called it "smart, moving, inventive, funny, and always surprising."  
Woodburn grew up in Ventura, graduated from Ventura High School, and has been part of the Ventura County literary community for more than two decades. She founded Write On! For Literacy (www.writeonbooks.org) as an eighth-grader at Cabrillo Middle School to empower youth through reading and writing. Her Holiday Book Drives have collected and donated more than 14,000 books to underprivileged children throughout Ventura County.
A former John Steinbeck Fellow in Creative Writing, Woodburn's fiction has been honored with the international Glass Woman Prize, second place in the American Fiction Prize, and four Pushcart Prize nominations. She also hosts the Thriving Authors Podcast, interviewing authors about the creative process. 
This is a big year for Woodburn, as her YA novel Thanks, Carissa, For Ruining My Life and her collection of stories How to Make Paper When the World is Ending are both being published. She wishes she could go back in time and give herself a peek of 2022. "When I was a grad student, I remember feeling pulled in two directions—like I had to choose," Woodburn explains. "Even though I loved both genres, I worried that I couldn't write and publish both. But I was wrong! I've learned it's important not to set limits on yourself." 
Woodburn's books are available everywhere, but she encourages people to purchase them through Ventura's own independent bookstore Timbre Books.