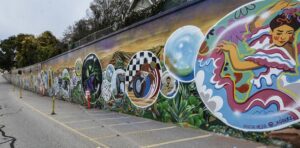 Readers:
In our last issue we had 2 errors (at least) the article on Marcy's Dream had board members names spelled incorrectly at the bottom of the article. They are correct at the top under the image and should be Kenny Slaught and Eva Rhodes. Sorry Kenny and Eva.
On the front-page article on the Murals on Wall St. a photo of a boat some how sailed into the photos. Its GPS must have been down for it to end up on Wall St. This is the photo that should have been there.
---
A Ventura Surprise
a Pacific hint is a beautiful sunrise,
For waters rise early in the morning,
with midnight colors they rinse our beach,
And cover the shores with the call of nature.
The moon gestures us to follow new horizons,
Her sacred position is a nighttime mystery,
Before it reaches onshore tomorrow at Dawn,
It lets go of tiny seashells with a Ventura tide.
A coastal tide is the ocean's little secret.
by Jeff Russell
---
Lead us not into temptation. Just tell us where it is; we'll find it.
~ Sam Levenson