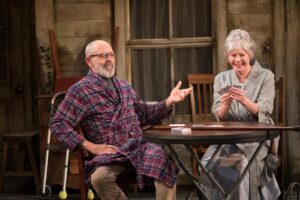 by Shirley Lorraine
Rubicon Sets the Stage for the Season
The Rubicon Theatre has proudly reopened. Areas of the space, both upstairs and down, have been renovated, remodeled or renewed.
The night I attended the air was electric with excitement as the Rubicon staff and volunteers welcomed patrons back.
Rubicon's 2022 "Welcome Home" season launched with a pre-season event titled "The Gin Game" by D.L. Coburn, featuring accomplished veteran actors JoBeth Williams and Joe Spano. Company stalwart Jenny Sullivan directed. The production heralded the re-opening of the Rubicon and after closing on April 3, goes on the road for a national tour, enticing audiences back into other regional theaters.
The Gin Game is a Pulitzer-prize winning exploration into life toward the end of the road. Weller Martin (Joe Spano) has been living at Bentley Nursing Home, a rather run-down facility, for some time. His solitary existence has rendered him grieving, bored, defeated, and generally unhappy. A newer resident, Fonsia Dorsey (JoBeth Williams) enters Martin's lonely world and the two reluctantly become companions over frequent games of gin rummy. The problems begin when Fonsia cannot seem to lose at the game, bringing Weller's frustration and anger to the surface.
The audience is swept up in the competitive banter between the two, interspersed with insights into a nursing home environment in which neither ever wanted to end up but to which they were consigned because of life circumstances. Despite their differences, the two find their situations have a great deal in common. The frailties and realities of life in a nursing home are constant reminders of the lives both used to enjoy.
Those with friends or relatives living in an elder care facility will find many familiar refrains throughout the play. The frustrations with "systems" are universal. To paraphrase a line Weller utters "we are stored here until the end." The feeling seems to be common.
Both award-winning actors brought performances that pulled at the heart strings. What a lovely way to reintroduce audiences to the magic of live theater and of the Rubicon, our local jewel in Ventura's artistic crown.
The next Rubicon production will be Twilight, Los Angeles, 1992, opening on the 30th anniversary of the Los Angeles riots following the Rodney King incident. A powerful account of the "largest social explosion of the American 20th century", Twilight delves into the many sparks that fueled the emotional inferno that still evokes reactions today. It promises to be a must-see, thought-provoking production.
Across the county our theaters are announcing seasons full of variety. Actors and stage crews are in full swing rehearsing and preparing for you, their devoted audience. Most theaters still have mask and vaccination precautions in place – a small inconvenience for a large return. Your support ensures continuation of their health as well.
Check with each theater individually for their production schedules and guidelines. Do something nice for yourself. Attend live theater.