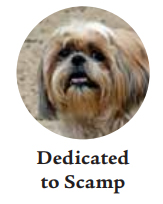 ∙ My name is Frederic Bisson and I need your help.
I'm a long distance truck driver based in Montreal, Canada. Last month, I was making deliveries in Ventura and I had to spend the weekend in the area before the next scheduled appointment.
I am traveling with my 2 cats: Lea and Stella. In my pre-pandemic life, I worked as a journalist and a radio host and I left everything behind to experience this new life on the road with my cats.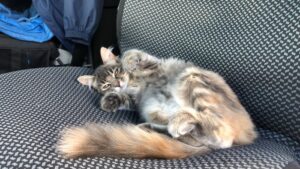 At 35, I received a diagnostic of autism (Asperger) and that's when I knew that I had to change my life because working in the media was too much stress.
I'm sending this email because my little cat Stella ran away during my first night staying at Motel 6 in Ventura. She pushed the screened window open and never came back. Unfortunately, I had to leave because of my trucking work.
I've posted some pictures on a Facebook group and many volunteers from your area went searching, posted signs and installed cameras near the motel. It's one of the volunteers that gave me the idea to send my story to your newspaper.
Being autistic, cats are really important in my life. I've been so sad and depressed since Stella ran away and I don't know what more I can do to find her. What is she's alive and was found by someone?
Here are a couple of pictures of her. If you have any questions, please call me back. I would fly back to California to be reunited with her. My boss is also trying to book some deliveries for me in California in the coming month.
Thank you!

Frederic Bisson
819-664-2643
∙ HSVC Cares is partnering with national nonprofit Petco Love to give pets their best shot for a healthy life by hosting free pet vaccine events during the month of March.
Petco Love established March as "National Pet Vaccination Month" to encourage pet parents to keep their pets up to date on vaccinations and will provide free pet vaccines to HSVC for family pets in need. As puppy and kitten season approaches, pet exposure to contagious and deadly diseases – parvovirus, distemper, and panleukopenia – increases but is preventable with a simple vaccine.
Free vaccine events will take place at the shelter, located at 402 Bryant St. in Ojai, on March 24th and March 31st. Walk-ins are welcome from 1 – 3 pm on March 24th and from 12 – 3 pm on March 31st. Free FVRCP (upper respiratory) vaccines for cats and free DHPP (distemper/parvo) vaccines for dogs will be offered in addition to $5 Rabies vaccines, $15 Bordetella vaccines, and $25 microchipping including registration.
A second cash-only remote free vaccine event will take place on March 26th from 12 – 4 pm at Westpark Community Center at 450 Harrison Ave in Ventura. Free FVRCP (upper respiratory) vaccines for cats and free DHPP (distemper/parvo) vaccines for dogs will be offered in addition to $5 Rabies vaccines at both of these events.
For more information about HSVC Cares' vaccine event, visit hsvc.org, or contact the shelter via email at [email protected] or by phone at 805-646-6505. Learn more about Petco Love's national vaccine effort and lifesaving impact at petcolove.org or freepetvaccines.org.
∙ Rep. Julia Brownley (D-Calif.) and six other members of Congress are speaking out for thousands of beagles suffering at a massive facility operated by Envigo in Cumberland, Virginia, that breeds dogs for experimentation. The legislators have sent a letter to the U.S. Department of Agriculture's (USDA) Animal and Plant Health Inspection Service (APHIS) urging the agency to fulfil its legal obligations and confiscate the dogs at Envigo or suspend the facility's license over its critical, direct, and repeat violations of the federal Animal Welfare Act. Reps. Charlie Crist (D-Fla.), Rep. Dina Titus (D-Nev., Eleanor Holmes Norton (D-D.C.), Rashida Tlaib (D-Mich.), Elaine G. Luria (D-Va.), and Jerry McNerney (D-Calif.) also signed the letter.
Although the USDA cited Envigo—an Indiana-based $545 million company that sells dogs for experimentation all over the world—for 39 violations just between July and October 2021, it has failed to take meaningful action to protect the thousands of beagles who remain imprisoned at the facility.
"This lack of timely follow-through is not what Congress intended when it entrusted APHIS with investigating these violations of federal law," wrote the representatives. "Please provide my office with … a complete explanation as to when APHIS will take these and other actions to render urgently needed aid to the roughly 5,000 dogs held at Envigo."
Of the 39 violations Envigo was cited for between July and October 2021, 19 were direct or critical (having serious or severe adverse effects on the health and well-being of the animal) and 11 were repeat failures. Violations include these:
Only 17 staff members were employed to supply direct care to 5,000 dogs and puppies.
More than 300 puppies' deaths were attributed to "unknown causes."
One dead puppy was found eviscerated, and records showed that her kennelmates had "chewed on" her corpse.
Numerous dogs were denied care for "severe dental disease," eye ailments, crusted and oozing sores on their paws, multiple skin lesions with "thickened" and "inflamed" tissue, and other wounds and conditions.
Three dogs had been killed in fights, and 71 others had been injured by dogs in adjacent kennels. Twenty-four dogs and puppies were missing, and nine dogs who had been injured when "body parts" were pulled through a kennel wall by other dogs and bitten, causing "physical harm and unnecessary pain," were put down.
Thirteen mother dogs were denied food for 42 hours while nursing 78 puppies.
There were "old, dried, and moldy feces" in dog enclosures; up to six inches of feces piled in a gutter; one kennel with "at least nine or ten piles of feces"; and an "overpowering fecal odor" and a "strong sewage odor" in the facility.
For more information about PETA's investigative newsgathering and reporting, please visit PETA.org or follow the group on Twitter, Facebook, or Instagram.
∙ Cats have a hard time competing with dogs because you know dogs are happy to see you from far away because you can hear them bark and see them wag their tails. When cats meow you need to be very close to them to hear so think of meowing as barking. When cats purr you need to be almost petting them to hear so think of purring as wagging their tails so they become just like dogs. And for some folks and illnesses cats are even better therapy animals. So, let's hear it for cats
Do's and Don'ts for Communicating with Your Cat
From body language to training tips, here's how to build better bonds with feline pals.
by Brittany Edelmann
The do's and don'ts provided here may help strengthen your bond with your cat, increasing the chances that they will be less stressed generally, and more inclined to relax and play, or just hang out with you. And that's good for both of you, because physical interaction with a cat can be beneficial for your overall health. One 2019 study by scientists at Washington State University showed a decrease in cortisol, a stress hormone, within just 10 minutes of interacting with cats (or dogs) compared to those who just observed interactions from afar. So give these tips a try.
Do: Turn up the Heat
"Cats … in general, like houses warmer than most Americans keep them," Lilly says. A 2016 research study indicates that the ideal room temperature for felines is 86 to 100.4 degrees Fahrenheit — much warmer than most humans prefer. Cranking up the thermostat, especially in winter, may be cost-prohibitive in many regions. But placing a heating pad next to you — one that is safe for claws and not too hot — creates a localized hot zone that can make cats "feel cozy and warm" and "is a great way to try and get your cat to hang out with you," adds Lilly, who has three pads for her kitty: in the office, the bedroom and the living room.
Every cat is different. Understanding what they like and don't like, keeping stress to a minimum and making them as comfortable as possible is key to a better relationship. What's most important? "Respecting their boundaries and interacting in a way that they want to interact, versus the way you may want to interact, can be beneficial for your relationship," Castro says.